This is an updated version of a 2010 post from our business forum, which seemed to help a lot of people at least gain an understanding or insight into the perceived dark arts of Search Engine Optimisation.
It also takes into account recent Google crusades against elements of the SEO industry, and explains some of the pitfalls and how to avoid them!
It's a long article, and I've added links where possible back to the likes of wikipedia or help resources, to explain any jargon that may have crept in or anything gets a little technical.
If I've got it wrong, confused anyone, or it made sense, feel free to post a comment at the end or even share!

SEO – Search Engine Optimisation.
The ability to get somebody searching on Google, Bing or Yahoo to come and look at your website.
How?
Configuring and setting up your web pages and website so search engines (ie Google!) understand what your content is all about, and give you a fighting chance of showing up in Googles search results, something that seems to get gradually harder and harder.
Since the dawn of the internet we know now, and the typical search engine, the primary method of getting your content displayed has been keywords.

These are the words people type into a search engine to find what they are looking for. Eg if I type tax office into google, I will get millions of results. If I type in Stratford Tax Office I will get a much more refined search. Getting your website onto the first page of these results is the art (some say religion) of SEO.

I've utilised SEO consultants, picked up books, and gained experience over the years by dabbling. SEO is a very emotive field, full of some genuinely knowledgeable people, but also plenty of back bedroom cowboys, including dodgy "blackhat" consultants that will try and cheat, take your money and end up you getting banned. More recently, Google has rendered many commonly used SEO techniques as obsolete, which if still used could get you penalised by Google!

If you are outsourcing your SEO, then do your research and choose wisely.

So these are my views, and what has worked for me. Other people may have different ideas, some will say different things have a different importance, but at least after reading this, you will be armed to join the great SEO debate.
For those that have a greater understanding of SEO, then you may be familiar with the concept of structured data and semantic search, which is what the internet has been steadily moving to. But as of 2015, with only about 20% of websites adopting structured data techniques, the humble keyword is still just as important as ever and this will start you off on the right path.


Concepts
I've broken these down into "On Page" and "Off Page" SEO, and order of importance.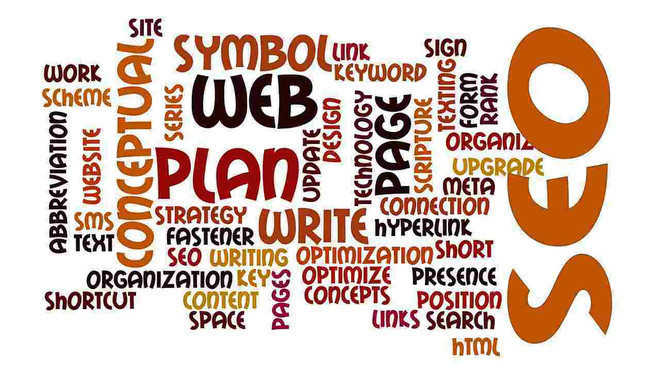 On Page SEO
In other words all the things you can change yourself on your website (or your web designer can do it for you).

1. URL - Ok, maybe too late if you already have your website set up, but maybe food for thought next time. If you can, try and choose a relevant keyword in the URL (your web link). eg if you're a Taxi operator, then choose a URL with Taxi in the title such as Mylocaltaxi.com. Priceless free marketing. Don't confuse this with exact match domains! This was an old SEO trick which is now defunct and will cause you grief. eg best-builder-london.com. You could argue the mylocaltaxi.com is an exact match domain (which I used as an example before this update), but personally, I'd still use it. It can be a grey area, open to interpretation, and if you want to research it further, this is a good article.

2. Keywords – Do some research, if you were buying your product, what would you type into Google? I'm afraid no one cares that you are called ABC Ltd, and won't type this into Google. You don't have brand, so work out a set of keywords that you think you can achieve and will give you some targeted visitors. There's plenty of tools out there to help you, Google has one built in to Adwords - Google Keyword Tool*
*Google now only lets you use the keyword planner if you have an Adwords account which is no good if you don't plan to use Adwords PPC. There are a few alternatives, just google keyword research or free keyword tools. A useful one which has a free option is keyword spy.

3. Page Titles - Such a simple and effective fix. Go into your webcode (or ask the person who can) and edit the page title between the title tags. eg: Steves website If you have a product per page, then get that keyword into the page title, and keep to the beginning of the title tag as close as possible. Try if you can (I never can!) to keep your title around the 64 character mark.
If you can't, it simply means you won't have your full title displayed in Googles search results, and it will be cut off with 3 dots. Here's a good tongue in cheek example, showing even the professionals struggle.


4. Page Content – This is your area to shine. There's no excuses for laziness, no one knows your product better than you. Google loves content. Your page needs to be appealing to someone arriving on your site. If your page title is Steve's Beer Cans, then Google, you and any visitors will expect that page to be about beer cans. Sounds obvious? So why do so many people get it wrong?

In this daft example, the keyword you want to rank well for is "beer cans". So the content should be all about beer cans, with keyword "beer cans" placed occasionally in the text. I say occasionally, use your common sense. "This site is all about beer cans, as we like beer cans and beer cans is what we are all about..." If you write web copy like that, then that's called keyword stuffing. It's an old tactic used by lazy SEO people, and Google will now penalise you. Write your content for a human reader!

Add your keywords a "few times" through out your content, keep it readable and sensible, but it's recommended to add it at least once in bold, ie: beer cans. If you have keywords as a phrase, feel free to mix them up a bit. eg the phrase Steve's Beer Cans could be spread across different combinations such as "Steve's Beer", "Beer Cans", "Steve's rusty beer cans" etc. The more natural a page looks, the better you will do. No doubt this page will now end up being optimised for beer!

There is something called a H1 tag, and this is used a primary heading for your content. So you need to get your keyword into this heading. eg:
Steve's Beer Cans
In the old days, you were told to make sure whatever was in your page title, should also be in your H1 tag. But in the interest of making it more natural, if you can, make it slightly different from your page title, whilst keeping your keyword. Maybe in this case we could have:
The story of Steve's Beer Cans
Unfortunately, you are competing with millions of websites and countless SEO people good and bad. To try and level the playing field, Google is always on the look out for "over SEO'd" websites, which is why we have to tread a little carefully, and mix up our keywords in our content, and not make our site look like it has come from an SEO text book.
If you have images in your content, then if it is relevant to that keyword, then add the keyword into the alt tags, as this will help your page get indexed in things like Google Images.

Be warned though, adding your keyword as the alt tag for every unrelated image on the page is another form of keyword spam! Alt tags are for things like screen readers, and are meant to be helpful, and not spammy.

Some SEO people and a lot of SEO tools will go on about keyword density, but its cobblers (IMHO), and don't worry about it. People will tell you that your keywords need to be 4% of the content, and there are mathematical formulas to work it out.. blah blah... its all rubbish.

Put them in your page title, H1 tag, about 3 or 4 times in your content, once in bold, plus an image alt tag if you can, and that should do you fine. Be logical and natural



Remember, subtlety include your keywords, but keep your content readable and professional. If copy isn't your thing, then engage a copy writer, just give them a brief and the keywords you are looking to incorporate.

5. Them meta name thingys – One of the important on-page areas are something called meta tags or meta data. These live in the code of your web page and you will need access to your code to edit them, or ask your web guy. In the old days, meta tags held an important role in telling search engines what your site was, what the keywords were, and what description to display. But they were targeted and abused by spammers and now the keyword meta name is no longer used.

In the head of your code, under the page title tags, you may see it if it is being used, eg:
Personally I would remove the "keywords" tag if you can. If you populate this tag, all it does is act as a quick reference point to your competitors and tells them exactly what keywords you are targeting. They can still get this information from other tools, but why make peoples life easy?

One meta tag that is still used is the description tag This will display under your page title on the search engine results. If you leave this blank, the search engines will grab some text from the web page, but better to tell Google and potential visitors about your site than letting Google guess. That said, Google does have a habit of ignoring this tag from time to time and displaying what it thinks is relevant.
There is a lot more meta information that is displayed and is becoming more and more important. Tags that tell Facebook and Twitter how to display your content, and any relevant image, title and description if it shared on social media platforms. This is getting into the realms of structured data, and for the more advanced user, this is something to spend some time on, investigate, learn and implement. We have a good education starting place on our forum, or get googling.


Off Page SEO
Or in otherwords stuff you can do without having to edit your website or code. Sometimes referred to as SEM (Search Engine Marketing).

1. Link Building - the basics – After Keywords, traditionally the single most important factor of SEO was creating Weblinks to your website, or as Google see's them, the currency of authority. The theory goes, if your website is a fantastic resource, has superb content, awesome products everyone wants, then people will naturally link to you. When more people decide to link to you, Google will reward your status as a trusted resource and grant you a better place in the search engine rankings.

In reality, link building has been abused for years and in 2012, Google decided to clean up the "link scape" with its famous Penguin updates, and has rolled out various incarnations since. So if you have fantastic content and have naturally built up links over time, then you can polish your halo and relax.

But if you have been using dubious quality SEO companies, who have been using underhand link tactics, then you could be in trouble.

2. So where to start? - Now the trouble is, everyone is link building. Ideally you want one way links, website B links to you. If you link back to website B, then that becomes a reciprocal link. No problem with this, in moderation. Also links are down to quality. You don't want pages of spammy reciprocal links to sites completely unrelated to you, and you may actually get marked down.

Remember the golden rule, you have full control of who you decide to link to, and not who links to you (although that has been up for debate - see our forum post on Negative SEO). So if you decide to link to a dodgy type site, then this is classed as linking to a "bad neighbourhood" and you will be penalised (ie potentially booted off Google!

)

3. Building a Natural Link Profile – When you head off link building, what you are looking for are quality links, that will allow search engines to crawl them (index). But a natural linking profile would contain a wide variety of links. eg the "no follow link"(rel="nofollow"). Any links with a no follow tag may appear to offer little value from an SEO point of view, as they tell search engines to ignore them, but, humans can still click on them, so they can be a good source of traffic.
Classic example is twitter. Twitter displays nofollow links, but obviously a lot of people click on them, so it maybe perceived as poor SEO, but they can be good traffic generators, and a very good way to show a natural link profile to the likes of Google.
4. How do you build links to your website or web page? - There are various ways of obtaining links, here are a few suggestions to get you started.
Quality and niche directories are a good source, both free and paid. Directories vary greatly in quality, so do your research. Submitting automatically to 100 directories for $25 is a tactic of yesteryear and will get you penalised by the Google God!
Sharing quality content across social media and having people naturally link back to you.
Blog comments used to be a favourite way of getting links, but this is now a dangerous strategy as a lot of blogs are spammed to death with no moderation. No moderation means no quality, so stay away. Use common sense, leaving a comment on an authoritative blog that contributes to the conversation and is moderated will be fine.
Guest blogging, ie writing a post for a blog other than your own came under fire from Google recently and panicked a lot of people. Done properly on an authoritative and well moderated site that only accepts quality well written posts, then you should have few problems and is a good way of building your reputation as an expert in your field.
Other ideas are Forums, (beware of lots spammy keywords in your forum signature, if allowed), social networking sites such as Facebook, Linked In etc.
There are multitudes of ways of generating links, but see and understand the Anchor Text section below before heading off on a link building exercise, and in this new world of aggressive Google penalties for poor link building, choose wisely. The best linking tools you can use is good old common sense and your gut feeling.

4. Anchor text – What is it? Traditionally the text you want to display when someone is linking to you. In other words keywords! If your URL was www.mylocalservices.com you might want the displayed text to read My Local Services USA. Visually it would look like this:
My Local Services USA

As of July 2013 - Google updated it's links policy. In short, the old tactics of key word anchor text, and lots of links all saying SEO 101 and pointing back to seosteve.com no longer work and will get you a google penalty.

So any anchor text pointing back to your website needs to look natural. If casual visitors decided to link back to you, what would they put? Most likely your website address, business name, brand, or maybe the title or subject of the web page they are linking from. But it would unlikely be keyword rich, such as "free advertising".

5. PPC – aka Adwords. Google Adwords and similar give you the ability to short cut the SEO process, which is known as organic SEO, and go straight for the kill. In other words you take out adverts on Google and display in the sponsor links. The process is similar, you choose your keywords, then you decide a budget. When someone types in your keyword, Google holds a little auction, and the top 10 bids will display in the sponsor links on Page 1. The process happens in a split second, and the deepest pockets win.

But it doesn't have to be expensive, and with Google regularly handing out £50 vouchers (just google "google vouchers") it's a good way to experiment for a few quid a day. The key to adwords is to tweak and test, tweak and test. The interface is straightforward and most newbies pick it up quite quickly.

If you can get a decent conversion going, ie x% of clicks on your advert = x% of sales on your site, then it can be quite profitable.

To learn more about adwords, just Google "Adwords"


Summary
The basic fundamentals of SEO haven't really changed. What has changed is the way SEO was manipulated. There are other factors such as site speed, reliability, location etc, but hopefully this has put you on the right path.

As a novice SEO, just follow the rules, be patient and concentrate on creating great compelling content. If you sell a product or service, then look and apply on page SEO, but also look at your site. SEO may get a visitor to your site, but are they likely to convert when they get there?

If you decide to outsource your SEO, then there are more tips and tricks a good consultant can advise you on. But do your homework, forums, review sites, etc. There are some really good guys out there, but unfortunately there are a lot more Cowboys and Indians. No pun intended!

Everyone may promise you "top of Page 1 Google", but not for any worthwhile search term that will generate targeted traffic and potential customers. Be wary of being tied into 12 month contracts. 3 months is more than enough time to start seeing results.
With Google now closely watching the SEO industry, make sure you know exactly what any 3rd party is doing to your business!
Be smart and get streetwise. Just having a high level understanding could save you a fortune from shady and unreputable SEO "experts" who simply want your cash.


Some Useful Resources
Moz Academy - great resource of industry respected experts and SEO starting place.
Search Engine Land - another gold mine of information.
Local Search Forum - as it says, ideal for small businesses who are concentrating on local search engine visibility. Jam packed with information and experts.
If anyone has any questions, feel free to post a comment below or catch up with me on our forum, and start a new thread or join in a discussion.