There have been many claims of Google killers over the years, normally overhyped wishful thinking. After all, Google is huge with very deep pockets and an army of developers.
But I honestly think someone has come along that will knock them off their perch, or at the very least force them to rethink and redesign search.
TL;DR - The Google search as you know it is about to change.
Welcome to the world of OpenAI. In their own words:
"OpenAI is an AI research and deployment company. Our mission is to ensure that artificial general intelligence benefits all of humanity." Certainly sounds better than "Don't be Evil", Google's historical mission statement.
What swung it for me though was playing with their search/chat functionality. This is currently in beta, using only offline data, which is regularly refreshed but isn't currently (as of Jan 2023) live to the world. Even with these limitations, it blows the socks clean off Google searches

Let's see some examples, and then let me know what you think.
Example Search - What is the capital of India
Here is a typical Google result you would expect to see.
This is how OpenAi handles the same question:
What else do you need to know? No sponsor adverts and SEO-optimised pages of waffle, writing content for content's sake (sorry SEO content writers...). Just the answer to the question.
This is where things change gear. How about a follow-up question?
how many people live there?
Here's Google's response:
It has no idea what you are talking about. Meanwhile, OpenAi will happily dive as deep as you want to into a topic, refining the answer until you have the information you need.
Impressive? Or still not convinced?
Does anyone know how to add an image to a web page, as I'm old and gone a bit senile? OpenAi not only knows, it will show me.
Let's really see what AI can do, and this is where things get a little scary and Skynet is born!
For any non-SEO people, Neil Patel is a well known influencer in the SEO world, and a prolific content generator.
can you write a promo piece in the style of Neil Patel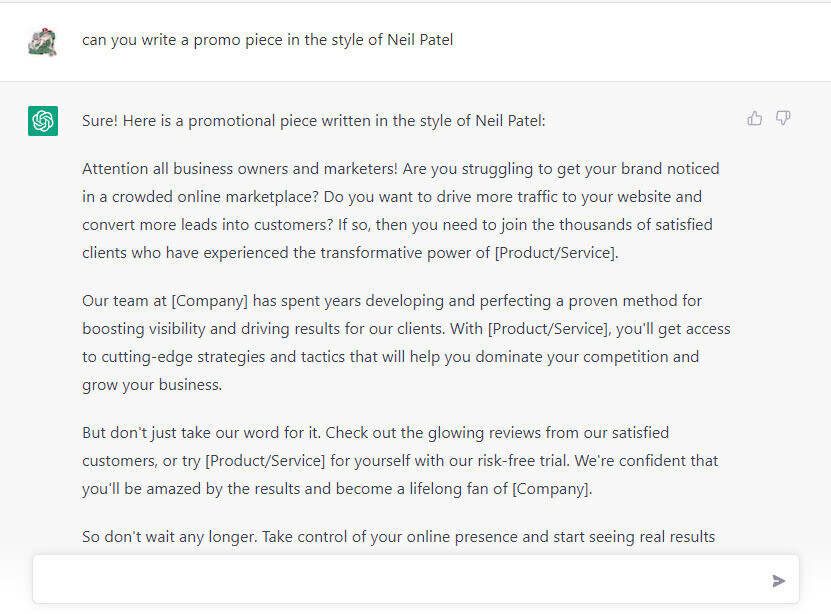 If that doesn't impress or frighten you, then you have ice water in your veins! Swap Neil Patel for Stephen King, swap promo piece for "can you do a business presentation based around xyd for business owners and keep it to a 1000 words"
All of sudden, the whole pay for content, or even we will write your thesis/homework/school project market has just evaporated. How many school teachers will be marking AI content and not even realise it?

Now, this is early days, this is all very brand new and in development. So imagine what it will be like when this is launched onto the live web and becomes self-learning. It will get better and better and the way users will search and digest content is going to change drastically.
The days of writing 500 word waffley pages with repeated keywords so you stand a modicum of a chance of ranking are fast coming to an end.
As with all technology and new advances, it's not perfect and has plenty of flaws. The biggest is something we already live with, trust. Is the content you are reading correct?
Most of us look at Wikipedia as a useful information resource, but fully understand it's not the gospel. Pages are gamed, people have agendas, and editorial bias, in the same way stories and information is manipulated or spun by tabloid outlets.
So the trust economy I suspect is going to be even more important. People or pages who are assumed to be correct, purely based on their credibility or links/associations to credible sources.
Here is an example close to home. Scotland Trusted Trader is a brand name used by one of my companies, which works in partnership with Trading Standards Teams across Scotland. Although they are official Council backed Trusted Trader schemes, Scotland Trusted Trader isn't run by the Scottish Government. Or is it?

So it is pulling information from credible sources that link to our Trusted Trader platform, putting 5 and 5 together and coming up with 21.
But this is why I see the future of optimising for AI driven search as reliant on linking with credible and related sources, versus rolling out pages of meaningless drivel in the hopes of ranking for an elusive keyword.
Here is the final nail in the manually created content coffin. As this is a business forum, how about the top 5 points to market a business?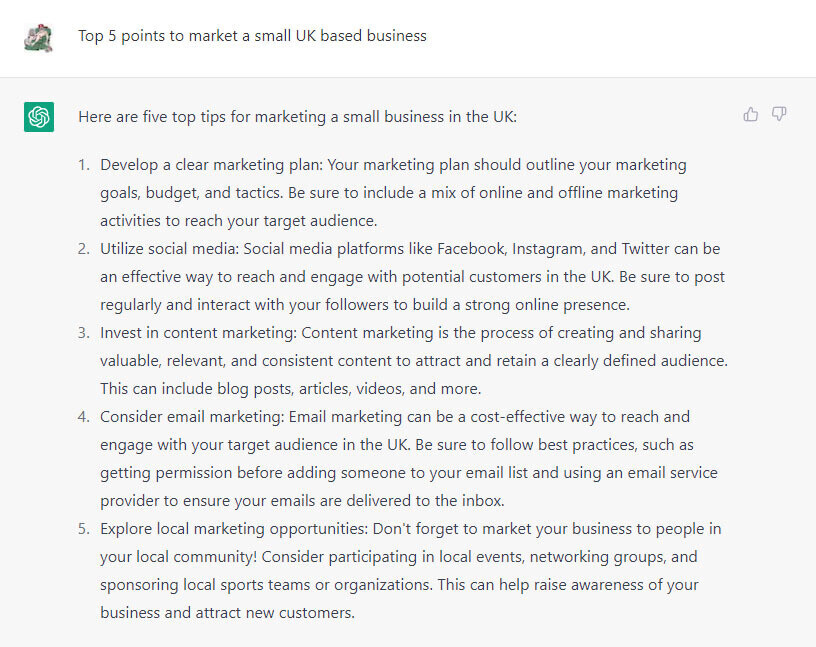 Took me a good 5 seconds to come up with that content! Even if point 3 is to create content

The genie is out of the bottle. Search is going to change and it will be fast. Chatbots have been using this technology for a while and it gets ever more sophisticated as people are unsure if it is a bot or a human.
Google will have been doing exactly the same search research behind closed doors, but they have been pipped to the post and now have to play catchup. AI is already very dominant in Google search technology and has been for a long time. But the days of a search result being a list of links with sponsor adverts and billions of pages of SEO-optimised content fighting to outrank each other are (at least I think) set to be consigned to history.
If you want to learn more, and I strongly urge you to, visit Chat GPT and open an account. It's all free (for now), so play with it and see what it can do.
Now is the time to embrace, understand and learn. Fortune rewards the early adopters, so start thinking about how you can utilise this coming technology and what impact will it have on your type of business or how you can take advantage.
Any thoughts, or feedback?