Most small business owners end up doing their own marketing, which can mean late nights listing yourself in directories, posting on forums, messing around on social media and trying to generate more leads, work or sales.
Spend Ten Quality Minutes
Instead of simply listing and moving on, actually spend ten minutes of your time on your directory listing, be it My Local Services, the UK Small Business Directory, FreeIndex or one of the many other useful marketing tools out there. Utilise the functionality and features on offer, and already you are standing out from the majority of your competition who can't be bothered.
This article is going to talk about how to make the most of your My Local Services business directory listing, as well as why it is important to implement all of the elements below to have a successful listing that not only attracts customers through My Local Services, but also ranks well in Google itself.
I'm assuming you have a listing with us. If not, we have two types, a free listing and a one off payment lifetime listing.
If you'd like to start with the free listing you can upgrade at any time to the lifetime listing and take advantage of the many features, which we will go through below, explaining why they are beneficial.
Your Control Panel
You control any aspect of your listing by going to your control panel. You can access this by going to the Edit Listing tab at the top right of any page of this web site and following the on-screen prompts, or selecting the edit listing button on your actual business page.
Once you have logged in you will be taken to your control panel, and from here you can edit your listing, change any details, add images, video and events. We have tried to keep it simple, but contact us if you ever get stuck and we'll happily help out.
Images and Videos
Images are extremely important for converting potential prospects into paying customers. Most consumers are very visual and like to watch or see images of a product or service. Business listings with multiple images, usually a logo, individual or team photo and a storefront or product image convert more clicks into customers than the average listings with a phone number and a few lines of text.
If you also include a short video explaining what your business does and why a potential prospect should choose you over a competitor, this can be the edge to gaining a new client or customer. These can be as simple as recording yourself talking about your business in front of your store, or you can get a professional whiteboard animation video created.
Aside from the conversion benefits of images and videos, Google loves multimedia. This means that pages with optimised images and videos will rank higher in Google itself. Therefore, when an individual searches in Google you are more likely to appear in the search results than a page with just text on.
PRO TIP: Include the same images and videos you use on your website, on your business listing.
Text – 25 words vs 1000 words
Lifetime listings have a word limit of 1,000, whereas free basic listings have a limit of around 25. The benefit of this additional space (which many premium members don't take advantage of) is huge from a Google rankings perspective. Websites with more words rank higher in Google on average than sites with less content.
As well as the increase in word limit a lifetime listing gets you, you can also include multiple keywords, such as four or five phrase long keywords e.g. "chartered tax accountant in LOCATION". This again improves your chances of ranking in Google for these longer keywords.
Opening Hours, Web Link and Correct Contact Information
You have the ability to add your opening hours, along with your website details. So make sure they are correct along with any contact information. It's easy to misspell a web site address or email, so test the links on your page to make sure they work.
Reviews
Generating reviews is essential to have a high conversion rate for your business. Reviews also allow your business to rank higher in the My Local Services directory. Reviews allow the stars to show up next to your listing, this again increases the click-through rate of prospects looking for your business type.
Case Study
Here is an example of a business listing that is making the most of their membership and regularly generates lots of happy customer reviews. Select the image below to see the actual page and reviews.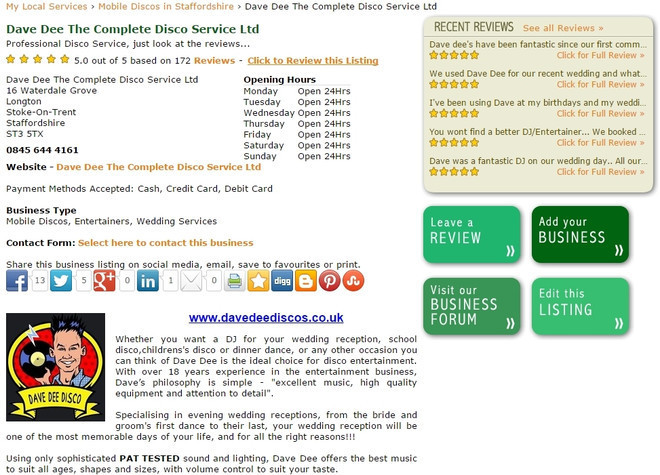 Multiple Locations
Basic listings allow you to add your business to one specific town, county or city. For some physical businesses this will be all you need, but many prospects and customers might be searching nearby areas and not reaching your listing page as a result. The lifetime option allows you to list in up to ten multiple local areas! To simplify things, we class the whole of London as a single area. So if you are based up North but would like to promote across London, then just select a new area by logging into your control panel.
UK Business Forum and Forum Signature
My Local Services is also a UK business forum as well as directory and being active on a business forum is beneficial for a number of reasons. The first is you get to network with small business owners, many of whom will be asking questions or answering ones you may need help with. Another benefit is individuals will see your business and may go to your website (in your signature), meaning you are soft selling with every forum post you make. Regular members can become seen as experts in their field, making them the "go to" people for their trade, industry or service.
Only lifetime listing members are eligible to show a web link signature, but all members will display a link to their business listing on My Local Services, and the forum is 100% free for everyone. Regular forum contributors may also be upgraded to a courtesy lifetime listing.
If you have listed your business, then there is no need to sign up again for the forum. Simply go to your control panel and select the Visit Forum option. Or alternatively you can login using the same email and password on the forum log in page. You can also join the forum without having a business listing and are welcome to simply interact with the community.
Additional Tips
As well as listing on the My Local Services business directory, you should also ensure you have a fully optimised Google business page for either your local business or brand.
If you have your business name, business address and contact number on your website, google business page and your My Local Services business listing you will rank higher in the Google maps results leading to more clicks to your website or visits to your local store.
Thanks for reading, if you're not listed with us then come and add your business.
If you are already with us, then ten minutes spent optimising your listing now might lead to a number of new prospects over the next twelve months. For anyone that has any problems, is confused or needs a bit of inspiration when it comes to setting up their page, please get in touch with us. There is a contact form on the bottom of every page, or ask a question in the forum.
If you haven't visited the business forum yet, then come and introduce yourself and I look forward to saying hello.