As a busy business owner, you may get confused or frustrated with the continual changes Google keeps making with it's business listings, or baffled how to generate Google reviews.
Or maybe you are looking to set up your first Google listing. Help is at hand

Simply hop to the relevant section.
Creating a Google My Business Listing
Requirements - a Google account. If you are marketing your business online, then this account is essential, as it will be used for all Google tools, from analytics to social media. If you don't have one, then follow the link: Create your Google Account
Creating your listing
1. Visit www.google.co.uk/business/
2. You will start with a map, enter your business name and see if it already exists in Google land. You may see some similar matches, if your is there select it, otherwise the search symbol.
Google may try and be helpful and suggest a match for you, but you have the option to manually add your own details by selecting the add your business option.
3. Adding your details. Pretty self explanatory, fill in the boxes. You may struggle with the Category section, it is quite limiting so try and pick the nearest match you can to your business type.
The final section on this page is the service area tick box. If you serve customers at their location, and/or you don't allow customers to come to your premises (home workers etc) then tick this box. Amongst other things, it can protect you against displaying your home address.
4. Once you have added your address and category details, and selected continue, you will be asked to confirm you have permission to add the details. Selecting continue again will then instruct Google to generate your Google+ page social media page. Nope you can't opt out

5. Google is very hot on verifying business listings these days, so you will have to confirm your details via a postcard sent to your address. It will contain a code with instructions on how to confirm your verification. You can also skip this step for now.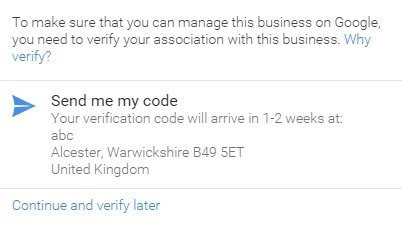 Welcome to Google My Business!
If you are new to this, then select the Get Started option at the bottom of the page to have a guided tour. Otherwise, select skip tour to dive into your control panel and start populating it. This will generate logos, images and text for your business listing that will be displayed on Google maps, as well as your social media Google+ business page.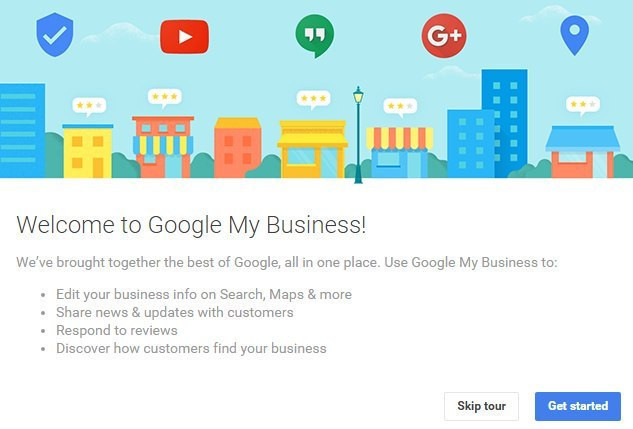 This control panel is where you will need to add your verification code when it arrives, and is also the place where you can see and respond to reviews, as well as see any analytics for your page.
At the very bottom, you will see a Google+ option.
Building your Google+ page
Now unless you have already started to add some images, logo and text into your control panel, your brand new Google+ page is going to look a bit bare and bland.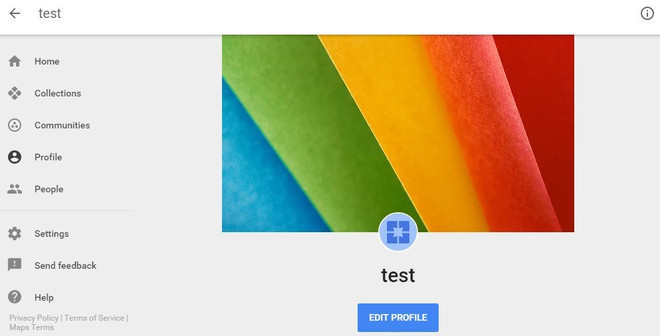 Selecting the Edit Profile option will allow you to add a recognisable logo and a background image. All other editing of the page is done from your Google Control Panel which you can access by selecting business.google.com/manage/
The Google+ Page is Googles answer to Facebook business pages with which you might be more familiar. It is simply a social media platform for your business. There is useful functionality such as communities, which is like Facebook and LinkedIn groups. ie a community of like minded people who you can request to join to share and exchange ideas, help, promotion etc.
Google+ has had a recent overhaul with a lot of functionality removed, such as visible customer reviews. These now display within Google search and show up on your business listing within Google maps.
So Google+ is primarily a social media and promotional tool for your business, which is up to you if you use or not. You can create posts, connect with other people, join communities or just use it for promotional purposes.
The jury is out on the current interface, so make your own mind up and have a play. You can connect with our page and feel free to ask any questions if you are stuck or need any help. https://plus.google.com/+MyLocalServicesAlcester
How to generate reviews for your business listing
With Googles recent changes to the Google+ interface, business reviews, both display and generation have been removed from Google+.
This means reviews need to be generated from the Google search results when your business listing is displayed. eg, on the right hand side panel of the search results, is a Google listing.
At the bottom right, you may be able to see a "Write a review" option.
So this means you need to send customers here to generate a review for your business. It doesn't seem the smartest move from Google, but luckily there are better ways to generate Google reviews.
Fellow business directory owner Terry Simmonds cracked it straight away, and has come up with a way to show a link that goes directly to the Google review generation page for your business. eg: Google review link for My Local Services
Now if you are already logged in with your Google account, you will be asked to confirm your password. If you are not logged in, you will be asked to log in, and will then be taken to the review page.
What you should see after selecting the link is: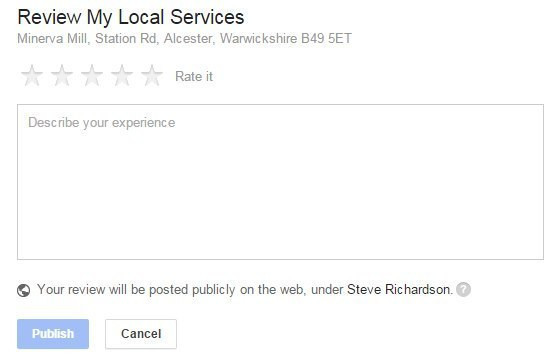 Having the ability to link directly to your review page gives you a much stronger chance of generating customer reviews, as you can obviously add this link to any location where you think a review request would be appropriate.
Creating the review link
Terry has done a page all about this, so if you want to know how to do it, then follow this link to his page: How to get more Google Reviews
Stan Kolev took Terrys idea a step further and created an interface to help create review links for your page. You can see Stans page here: Direct link to google reviews ( review box )
It may seem a little fiddly, and if anyone has any problems, please let me know, I'll be happy to help, as I'm sure Terry would as well.
If anyone has any questions or issues, feel free to leave a comment below, if you can forgive the irony of it being Facebook