During December 2016, we gently introduced the new look My Local Services to the world. I say gently because it doesn't matter how much testing you do, it's only when you start getting thousands of visitors landing on your website that all the real bugs appear!
But a few weeks on, most niggles and undocumented features have been fixed and user feedback has been very gracious and positive. Now we sit and wait to see what the Google god thinks…


So why put yourself through this stress?
If you are a website owner yourself, then you will no doubt have had many of the conversations that we had.
Do we need to modernise our website? If so, why? What are the benefits? What are the risks? What will be the cost? What are the expected returns? Do we have an adequate budget?
Our approach – data collection
This is how we do it, which may (or not) be useful if you are considering updating your own website.
First things first, data. We capture as much useful data as we can, from customer and visitor feedback, marketing team feedback, analytic information and finally third party monitoring tools.
1. Customer and visitor feedback
This is gold dust. How you capture it is irrelevant, just make sure you do. It can be phone calls, emails, social media comments or even third party negative reviews. All of it is priceless and is an external unbiased perception of your products and services. Positive feedback is flattering and reinforces the bits you are getting right, but criticism, suggestions or negativity is what will help you develop and improve. The best bit about feedback is it's free, yet provides one of the best business tools in your armoury for improvement.
2. Marketing team feedback
This can be more biased than customer and visitor feedback as you have instigated it. It may be the statistics of a MailChimp email campaign, feedback from a survey, or results from a paid promotion on Google or Facebook. But it is all important information that can shape your thinking and website design.
3. Analytic information
Analytic software (e.g. Google Analytics) can tell you exactly how your site is performing. The amount of data it produces can be baffling if you are not familiar with it, but it is also critical if you want a clear understanding of which pages are performing well and which need some TLC. You can set up goals that track any leads or sales to your website, or you can set up a goal to monitor any outcome on your site.
Analysing your data should paint a picture of areas of your website that are working, underperforming and need tweaking or requiring a complete rethink. Now compare this to customer and visitor feedback, plus your marketing feedback and hopefully the more technical analytic data will reinforce some of the feedback you have had. You should start to see a pattern of required improvements and/or areas that are working well so should be left alone.
4. Third party monitoring tools
Now this is one of the most contentious areas that will generate a different response depending on who you talk to. But the reality is you need to have a good idea how your website is performing in the search engines, particularly if you are going to the time and expense of revamping your website.
There are a multitude of tools out there, from the expensive and sophisticated, to the cheap and very basic, with everything else in-between. But don't forget your Google Search Console, which is free and can provide you with a wealth of data. If you are new to all of this and want to learn more, then come and talk to us on our forum , where we can give you some unbiased and impartial help. After all, we are not an SEO company!
Putting all this data into a plan - notepad
There is no right or wrong way, so this is how we do it. We keep it simple and use Windows notepad. Why over complicate with formatting, this is for raw ideas. It's built into every Windows machine, opens in a millisecond and we have a notepad text file on a shared drive called Phase XYZ – wish list.
Anybody can add ideas to this. If we get customer feedback asking for a feature, it gets added to the wish list. If we have an issue that is complex and needs a major update, it goes onto the wish list. If someone has a light bulb moment, off it goes to the wish list. You get the idea.
When it's time for a site update, the wish list is analysed and then compared against our marketing and analytic data. Each item will then be researched and evaluated. Is it viable, is it needed, or is it just a nice to have? Once it has made it to the shortlist, then it's time for the coders to give their verdict. How complex is it; time versus reward.
From a basic notepad text file we eventually end up with a full project plan, which includes the aims, risks, back out plan, testing plan, timeline, costs and schedule.
Once planned and costed, the updates are deployed to a test server and tested before being released to the world.
Smaller websites and one-man bands
The steps involved will vary depending on your size, resource and budget. But the theory works regardless of size. You may be a one-man band with a three page Wordpress site. But if you are receiving feedback that people don't understand what services you offer, or what prices you charge, then maybe it's time to update your website.
Maybe your website isn't very friendly on a mobile phone? You can even get a quick and honest website review from Google: Google Mobile Website Checker
So, what have we done?
The biggest change is a direct response to feedback over many years and that was to redesign our database. Unfortunately for a business directory which is basically just a big database, this has been a huge and massive change, requiring our technical guru to sit down with a blank piece of paper. We have followed a more conventional database search design, finally removing our reliance on our old county structure, now searching by distance and radius from postcode.
The next change was to respond to the growing trend of responsive website design, i.e. the same website should display on any screen regardless of size, from mobile phones to plasma screens. Although we had been mobile friendly since 2009, we did this by having a separate mobile website, which has become labour intensive over the years and inefficient as we must update and manage two separate websites.
Finally, we have implemented as many suggestions and requests as we could, fixing people's niggles, including breaking down our listing options, including real time promotion and redesigning our layout and listing editor.
We have also finally releasing our long awaited and regularly requested review widget. Here's an example of what it looks like, but you can tailor it by size and colour and other options so it fits in with your website.
If you want to show a review widget, just log-in and look at the review section on your listing editor. Hopefully it's obvious enough but we are happy to help if you're stuck. Just contact us.
We haven't made any big changes to the forum as were asked by forum members not to tinker with it.
This has been the largest and most complex update we have ever done, but I hope you appreciate the new look.
MLS through the ages
For a bit of fun, here is how the site has evolved over the last 11 years as a reaction to your feedback.
Our Home Page in Dec 2006
Our Home Page in Dec 2011
Our Home Page in Dec 2016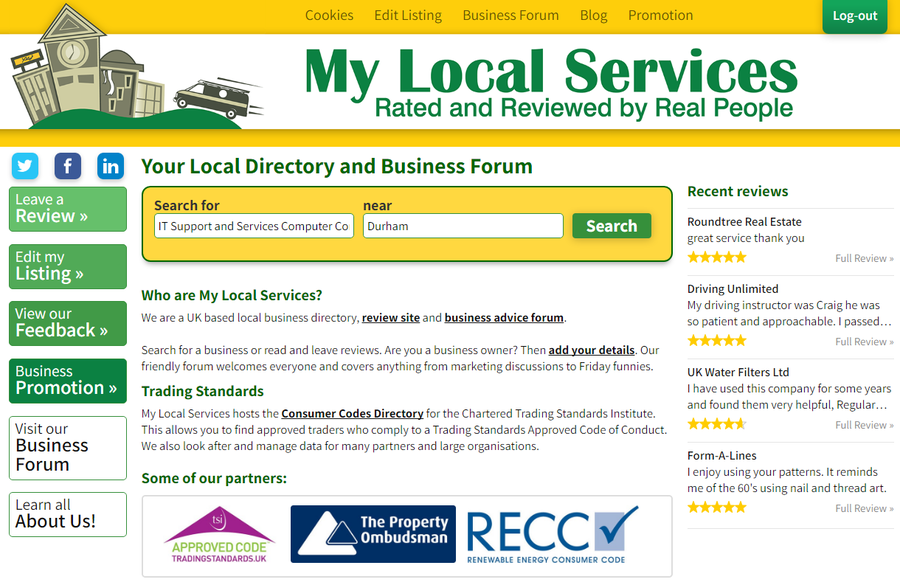 Feedback
As always, we are always looking for feedback, good, bad or indifferent, so please let us know what you think. If you don't like something, then tell us why, or feel free to offer a suggestion.
This site has evolved since 2005 primarily on people's feedback, so let's start planning for the next update. Feel free to comment below, contact us or if you have used us leave a review on Google, Facebook, TrustPilot or anywhere else.