When you first start a business you need one of two things, ideally both, but this is rarely possible. These are time or money, aka the currencies of business. Individuals who have the funds available to invest into their business from day one are 'cash rich', generally they can launch faster so they reach a bigger audience much quicker.
But the individuals who start with a very 'time rich' budget, so have a lot of time to invest but not a lot of funds, have to use different marketing and advertising methods to make their business a success.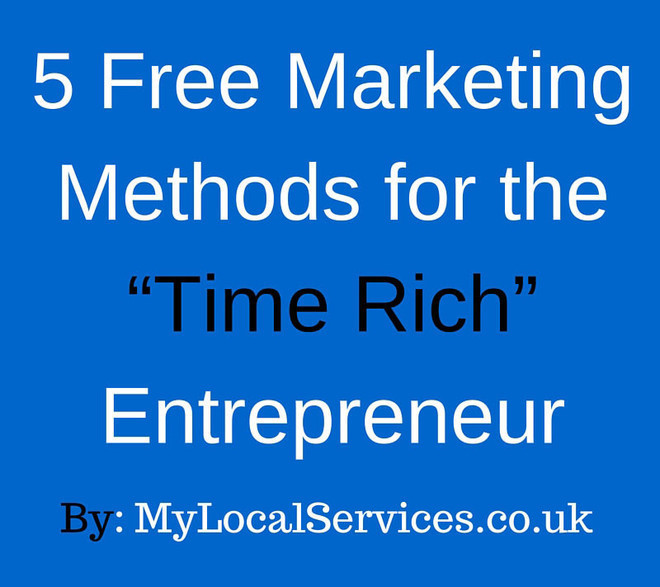 In this article we're going to look at the top five free advertising techniques you can use to promote your business both online and offline. These are extremely effective when performed correctly, but do take a lot of time investment.
Email marketing – Done right
Email marketing is seen as spam nowadays. This is why we talk about 'doing it right'. The three keys to a successful outreach campaign are research, personalised reach out and don't sell.
Start by creating a long list of your prospects, target a specific industry or location and create a list of these prospects, their email address, website, address, phone number and contact name. Once you have this information you can begin to write your script.
The script should be short, simple and most importantly non-salesy. If you think you can sell to anyone from a cold email you are going to be disappointed. The opening email should be about creating a relationship. For example you could begin by asking the individual some questions, stating you would like their opinion for a blog post you are writing. People love talking about themselves and your conversion rate should be around 20% as a result.
This technique works extremely well with the 'create content through interaction' point below, you shouldn't be looking to sell to the people you contact, think about the 'next level down'.
For example, take a fitness company that sells fitness equipment. Step one might be creating a list of gyms and their contact information. The next step would involve reaching out, asking for a quote for your blog, this way you can begin to build a connection, whilst at the same time generating content for your blog. Step three would be creating the piece of content and showing the individual, they are happy they're featured in the blog post BUT the key here is now you've made a connection. If they need any fitness equipment for their gym in the future, guess where their first stop will be...
Social media – The free way
When someone says social media marketing there are one of two reactions by 90% of people. The first is adverts, which is obviously not a free method. The second is ineffective, which is a strange reaction, but one probably due to people not seeing a direct correlation between adverts and revenue, which is what you see in your Google AdWords account, but Facebook, Twitter and the like are very different. Our strategy is an alternative to these, more time heavy but a lot more personal and effective.
It involves searching for people already talking about your industry. You've probably seen this on an automated version, but these don't work. Instead we are talking about physically searching and connecting with people who are talking about either what you sell or the general industry you are in.
For example, let's say we sold yoga mats and our main social media medium was going to be Twitter. We'd search for people who have used the #yoga string. We can also just search with the word without the hashtag but that would give us hundreds of results. Connecting with these people is the easy part, just be casual, don't sell and make conversation This will not only help get your brand in front of people who are interested in your industry, but they will also probably follow you, meaning you can communicate to them in the future too.
Business forums – Connect don't sell
Business forums are a gold mine for leads and prospects for almost any business type. But the majority of people go about promoting themselves in the wrong way, going in too forcefully, too quickly, talking about how amazing they are and why you should buy from them… This is not the way to go. Instead add value to the forums by commenting on relevant posts. Any posts in your area of expertise, write a longer useful guide and you will slowly become a go-to person in this industry.
Also never forget crossover. Just because someone owns an accounting business doesn't mean they don't have crossover to the marketing or fitness industries. Remember these people are likely to know other business owners (and so on) meaning you help one person for free, you probably forget about it, but a few months later, you might get a call "you helped John Doe, I actually need some help too." This is big business on a personal level!
Create content – Through interaction
So you've probably heard that you should be creating great content but what does this even mean? Great content might be truly valuable, but if no one sees it then there's no point in going to the effort to create it in the first place. Instead you should focus on distribution. This can be done both before and after you create a piece of content.
Before involves creating a buzz with your audience, if you do not already have a following, then you can use the expert reach out method to utilise the power of pre-established experts in your field, by asking them to post on social media that they will be featured in an article on your site in ten days.
Once the article goes live, your main focus should be to generate as much traffic as possible, share the content to your social accounts, email your following if possible, reach out to the experts featured and ask them to share. This is the easiest method to get on the radar of some of your customers. Getting a tweet from a celebrity or expert in your industry is worth a lot more than generating a few extra sales through ads!
Take to the streets
Be your brand. Take your branding to the next level. Print your logo/corporate information on everything you can get your hands on. T-shirts and transport are the most effective ones. If your business is relevant, then start knocking on doors, going into businesses, it doesn't take much to launch a business, but that first hurdle is often the hardest. Do whatever it takes to generate customers and clients in the early days, these companies and individuals might stay with you for life, or buy from you time and time again. A £10.00 sale today could actually equal thousands through repeat business.
Conclusion
Marketing is time consuming and hard work. Be smart with your time, it's your most valuable commodity, so don't waste it! It's easy to convince ourselves we are busy, but if your most recent tweet was "Just finished the first series of Game of Thrones" or you're just reading endless Facebook posts, then don't complain if your marketing isn't progressing as well as you hoped.
Thanks for reading, remember to share and comment below on what you feel the best free marketing is, and how best to utilise these mediums.