DAVE DEE: Professional Mobile Disco Hire ... All Occasions
Professional Mobile Disco Hire for all occasions, just look at the reviews...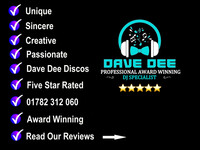 DAVE DEE: Professional Mobile Disco Hire ... All Occasions
Stoke-On-Trent
Staffordshire
ST3 5TX
United Kingdom
Business type:
Payment methods accepted:
Cash, Invoiced Payment, PayPal
Opening hours
Monday
Open 24Hrs
Tuesday
Open 24Hrs
Wednesday
Open 24Hrs
Thursday
Open 24Hrs
Friday
Open 24Hrs
Saturday
Open 24Hrs
Sunday
Open 24Hrs
Business information
www.davedeediscos.co.uk
Whether you want a DJ for your wedding reception, school disco,childrens's disco or dinner dance, or any other occasion you can think of Dave Dee is the ideal choice for disco entertainment. With over 18 years experience in the entertainment business, Dave's philosophy is simple - "excellent music, high quality equipment and attention to detail".

Specialising in evening wedding receptions, from the bride and groom's first dance to their last, your wedding reception will be one of the most memorable days of your life, and for all the right reasons!!!

Using only sophisticated PAT TESTED sound and lighting, Dave Dee offers the best music to suit all ages, shapes and sizes, with volume control to suit your taste.
Please visit our websites
For Everything Disco Related: ClicK Here
For Bespoke Wedding Packages: ClicK Here
For Children's Discos: ClicK Here
Pure Quality See Us In Action: ClicK Here
Or contact us on:
Mobile: 07976 752 178
Office: 01782 312 060 ..... (10.00am -3.30pm Monday - Friday)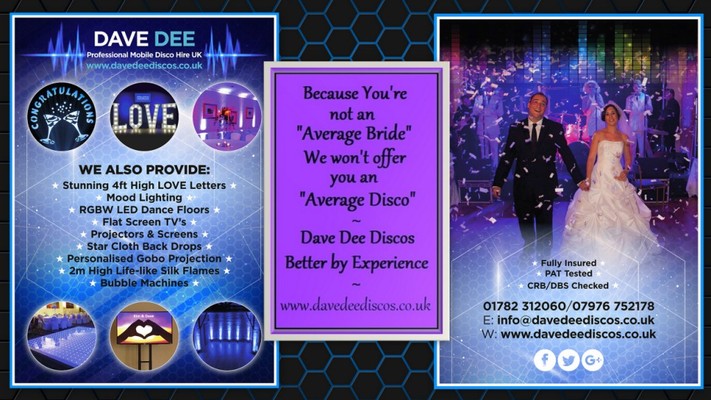 Order by:





5.0 out of 5 based on 429 reviews
Wow, what can I say.
Dave was the DJ at our wedding on Friday 7th September and he was BRILLIANT!
He got every one up and out of their chairs to join us for sparklers outside, he announced the cutting of our cake and got everyone around the dance floor as we did our first dance as Husband & Wife.
He put song requests out for our guests to request songs they would like (great idea)and gave us the option to have a finishing song which we had never even thought of.
He ended our night in the perfect way by ending it with the song that started our night.
Our first dance song by Ed Sheeran - Perfect.
Everyone from our wedding commented on how fab he was! if you are reading this and planning your wedding this is the only DJ for you
Thank you Dave for making our wedding night fantastic!
By
Amy & Jack Mr & Mrs Hodson ????
on 19th September 2018
good selection of music, very professional and approachable.. would highly recommend.
Response from DAVE DEE: Professional Mobile Disco Hire ... All Occasions:
Although there is not a lot given away in this review we feel the two big words are ... "professional and approachable? This is the first of many (we hope) 5 star reviews for our "new boy" DJ Paul

KIM (Dave Dee Admin)
What can I say....Dave DJ'd my school discos when I was younger and I always remembered having a fantastic time. It seemed the obvious choice to then return back to him to DJ my daughters birthday party. From start to finish I had excellent customer care, regular contact and when Dave arrived the children and I had an absolute blast. We had yet another party coming up and again I turned to Dave to DJ. This one was slightly different as it was my dad's 70th. Not such an easy party to DJ for, a Sunday afternoon and to say that my dad's requests and play list was difficult was an understatement. My dad basically, right at the last minute, provided Dave with a list of music, a fair bit of it obscure and requested he played it. Dave went out of his way to get all of the music. Which he did successfully. He had regular contact with us, letting us know what he had managed to get, advising us on the best way the music should be played. On the day of the party, Dave arrived on time, set up and got started. He is a really friendly guy, easy to get on with and has a great sense of humour. We couldn't have had a more professional service. We all had such a fantastic time. Dave may not be the cheapest DJ and he himself will say this. I can safely say he is worth every penny, he got it spot on. He did a fantastic job and we wouldn't go anywhere else. I can highly recommend him. Roll on my 40th for another good night! Thanks Dave you did an amazing job.
By
Kirsty
on 12th September 2018
Response from DAVE DEE: Professional Mobile Disco Hire ... All Occasions:
WOW!

And the award for the biggest review goes to, ..... Drum roll please ...... Kirsty
My desk is behind Dave's in the office.
He spent longer researching & obtaining the Cajun, Zydeco and Country & Americana music than he did playing it at the event, the end result is as you see it in the review above or as Dave would say "Fail to prepare, Prepare to Fail"

Great review Kirsty so so many good points raised we thank you x

KIM (Dave Dee Admin)
Sorry this has taken so long
Me and Michael would highly recommend Dave as your DJ, hes a lovely friendly guy nothing is too much trouble, We had the best night .... ever at our wedding on the 1st July at Moddershall Oaks, it was very thing we wanted and more !!
Dave called us pre our beg day, he talked us through everything he was going to to and how he was going to do it, he built with us our evening time line then turned up early and delivered an amazing set
Thank Dave
By
Jo & Michael
on 10th September 2018
Response from DAVE DEE: Professional Mobile Disco Hire ... All Occasions:
Thank you Jo & Michael,
All reviews are very special to us, this one, however means slightly more as we found out after the event that Jo is a wedding event coordinator, so to read the words "highly recommend" from someone who looks after other peoples weddings every weekend "highly recommend" suddenly has a much bigger punch :)

KIM (Dave Dee Admin)
Dave and the team offered us a spectacular first class service at our wedding last saturday at moddershall oaks. From start to finish the whole night was EPIC, having been to a wedding gig of Dave's before we knew we just had to have him for our own, he is the only DJ I have seen fill a dancefloor from the moment he begins right through to the end of the last song. And yet again he did not disappoint!!! He worked the crowd throughout the night, even bringing in a bride side vs groom side dance off which sent the atmosphere to another level. Along with this the equipment he used was second to none giving an already beautiful venue the extra wow factor. A big thank you again to Dave and the team, will definitely be recommending to friends and family for all of their forthcoming events.
By
Ryan
on 6th August 2018
Response from DAVE DEE: Professional Mobile Disco Hire ... All Occasions:
Kim From Dave Dee Admin writes
I was there! and seen the "Big Dance Off"

As with every review we love to hear what people are saying about the serivice we provide , Dave loved this bit

"From start to finish the whole night was EPIC"
Now epic is a huge word we like the word epic thank you Ryan & Becki
Copy and Paste the link below into your Browser Thingy, to see Dave in full Swing and witness the bride and groom dance off

https://vimeo.com/283054181

KIM (Dave Dee Admin)
Dave was amazing from start to finish. He was great with not only myself and my husband he was brilliant with our guests.
I could not recommend him enough!
By
Mrs Baker
on 22nd July 2018
FANTASTIC SERVICE
From the start to end I cannot fault this company Our DJ for our wedding reception at Combermere Abbey was Duncan who was excellent, everybody had a fantastic evening. Despite it being a really warm evening and a lot of the guests drinking outside there was always somebody on the dance floor. Great night, top chap,
highly recommended
By
Stephen Barr
on 16th July 2018
the DJ was great - the kids really enjoyed the games - when 20 7 year old kids ignore a chocolate fountain and candy floss machine to join in with the DJ games instead - you know he is doing a great job.
I?ve been using Dave Dee for over twenty five years , he?s reliable professional and I?ve never had a bad event with him as dj, he?s a fantastic dj would never have anyone else from children?s parties to weddings to corporate events.
By
Sharon Clarke
on 22nd May 2018
Response from DAVE DEE: Professional Mobile Disco Hire ... All Occasions:
Is it really 25 years? Now I'm feeling old
All I can say is .......
1) With age comes experience, and you cannot beat experience in any walk of life
2) Who would you rather have running your evening event an experienced DJ or a none experienced DJ?

This can be better explained by an explainer video Copy and Paste the link below into your Browser Thingy, to learn more

https://vimeo.com/205042902

To see photos and video clips of Sharon?s Age UK Fund Raising event Copy and Paste the link below into your Browser Thingy, sit back and enjoy

https://vimeo.com/271080978

DJ Dave Dee
One word perfect in every way. We had 86 people at our Wedding and I don't know of one person who wasn't impressed by the way that Dave approached people and his performance, the music perfectly matched the mood of the day Fun and high octane at times, I would recommend without any hesitation.
By
Julian & kath
on 14th May 2018
Response from DAVE DEE: Professional Mobile Disco Hire ... All Occasions:
I struggle with what to say, apart from THANK YOU :) All reviews involve someone feeling strongly enough to give up their time to personally voice their opinion, from our end I can assure you it?s really appreciated
I love the use of the words "high octane" maybe those two words sum up the amount of energy and effort I put in to every event to ensure its a 100% successful

DJ Dave Dee
Dave dee disco made our daughter's 9th birthday very special. Dave was very entertaining and professional. All the guests and kids thoroughly enjoyed the party. We would love to have him to do the same magic again for our second daughter's birthday in future:)
By
Sarithavishnu
on 10th May 2018
Response from DAVE DEE: Professional Mobile Disco Hire ... All Occasions:
How Nice,
Thank You
This event took place in a large garden in the beautiful sunshine, (May Bank Holiday).
The highlight for me was watching Samanvi (9 years old) singing Havana to over 50 people.

Copy and Paste the link below into your Browser Thingy, to see photos of this event on our Facebook Page

https://www.facebook.com/pg/Dave-Dee-The-Complete-Disco-Service-LTD-286838158034173/reviews/?ref=page_internal

DJ Dave Dee
Well where do we start in our review of Dave Dee Discos.
He was our dj at our wedding reception in April 2018.We knew from the very first meeting with Dave that he was going to give us the best wedding reception ever, and he definitely delivered.
He got everyone involved like he promised he would,the dance floor was never empty,he played a brilliant range of music to suit all ages.
He made our first and last dance even more special as he involved all our guests.
We would not hesitate in using Dave again in the future, and recommend him to all our family and friends,many who said he was the best Dj they have seen and we couldn't agree more.
Thank you so much for making our day so memorable.
P.S we need more business cards to pass to our family and friends as so many want your details.
Thanks again to Our Dj Dave
By
Lisa & Craig Bowen
on 1st May 2018
Response from DAVE DEE: Professional Mobile Disco Hire ... All Occasions:
Lisa & Craig ... Cards are on the way
I've just noticed your fantastic five star review on our Facebook page also, this is great feedback both here and on Facebook.
This review just smacks of Dave's confidence, in his ability to deliver what he promises, if he says he is going to do somthing he delivers every time
Thank you so much guys I hope you liked the little video of your fave songs

Copy and Paste the link below into your Browser Thingy, to see photos and video clips of Lisa & Craig?s favourite songs at this amazing wedding held at Consall Hall & Gardens

https://vimeo.com/267386951

KIM (Dave Dee Admin)
We had the pleasure of Dave himself at my mums surprise 60th party last night and he was awesome!! I've never seen a DJ work the crowd this he did and he got everyone up dancing and enjoying themselfs. He even hosted a little game of bingo for us!! I had so many comments from the guests about how good he was and wanting to book him for their parties. I would highly recommend!!
Response from DAVE DEE: Professional Mobile Disco Hire ... All Occasions:
This is another brilliant review thank you for this Sam; we have already taken a booking for a 40th birthday party as a result of your mum?s event :)
I did Question Dave about the bingo ... he looked very sheepish, as he confessed ?Yes I Did Bingo"
I'm glad he did this for you; I said he would if you asked him; it?s all part of the service

Copy and Paste the link below into your Browser Thingy, to see photos of Julies surprise 60th Birthday

https://vimeo.com/264959935

KIM (Dave Dee Admin)
The service we received for our wedding was amazing. Kim was really quick at responding to any queries that I had and it was great to have a chat with Dave before the event as this meant that I knew exactly how the event would run. We loved the fact that Dave played the our guests requests as it meant that the dance floor was never empty. Which is exactly what I wanted. Dave managed to easily create a happy atmosphere and our guests loved it. He kept an eye on other things that were happening such as when the photo booth was empty Creating a stress free environment for myself. We would definitely recommend this.
Response from DAVE DEE: Professional Mobile Disco Hire ... All Occasions:
We Just LOVE Moddershall Oaks Wedding venue Thank you Hayley & James for inviting us a long to play on your big day, I remember meeting you guys right back in the planning stages at a Local wedding open day
We were there from start to finish and Im so glad Dave Created a Stress free environment for you guys.
Can't wait to see the video :) esp how Dave worked David Bowies Starman !!

All the best

KIM (Dave Dee Admin)
What can we say...
We can't thank Dave enough for the personalised service given to us for our wedding. We were the last couple to get married at Packington Moor on 23rd December 2017 and were honoured to be able to hire Dave as our DJ as we know he has entertained a number of weddings also at Packington. From day one we knew we wanted to hire Dave and were not disappointed in the service provided. Would highly recommend this guy who is so much more than "just a DJ"
Lastly we must apologise for not reviewing you sooner.
Thank you so much for being our DJ and being fantastic from start to finish.
By
Kathryn & Jordan Wright
on 3rd April 2018
Response from DAVE DEE: Professional Mobile Disco Hire ... All Occasions:
Dave Dee Discos were proud to be the very first Disco to play at Packington Moor, then followed 14 years of amazing events right up to the very last event held there on December 23rd 2017,
Although a sad day in history a very memorable wedding for Kathryn & Jordan and a big thank you for this review and for using Dave to DJ at your event

Copy and Paste the link below into your Browser Thingy, to see photos and video clips of Kathryn & Jordan's event

https://vimeo.com/262898595

KIM (Dave Dee Admin)
Dave Dee was a dantastic DJ for our wedding. There wasnt a moment when no one was up dancing. He played a good range of songs that everyone enjoyed. All our wedding guests commented on how good he was. The dance floor looked amazing and just added that something extra. We would definately recommend Dave Dee! Thank you for your wonderful service on our wedding day!
By
Sophie Reynolds
on 22nd March 2018
Response from DAVE DEE: Professional Mobile Disco Hire ... All Occasions:
BRILLIANT...

We had to look up the word "dantastic? we think it's a new Staffordshire word which means, even better than fantastic so we'll take that one!

Sophie & Oliver it was our pleasure to DJ at your event, despite all the snow, a really good crowd that were up for a party

Copy and Paste the link below into your Browser Thingy, to see how "dantastic" Sophie & Oliver?s RGBW Dance floor looked

https://vimeo.com/261292844

KIM (Dave Dee Admin)
Booked Dave Dee for daughters 9th birthday and the party was amazing!! The kids loved it and Dave made sure that they were all included and had lots of fun. Lots of the kids fed back that it was the best party they had been to. Highly recommended.
Absolutely top notch stuff from this fella. Not only professional but very accomodating with any last minute changes and worked the party around our daughter to make her day very special. The parents ended up joining in!
By
Richard O
on 18th February 2018
Response from DAVE DEE: Professional Mobile Disco Hire ... All Occasions:
Thank you for this review Richard,

Dave's response was....
It was a pleasure to work for you & your daughter, the children were so engaging, polite and interested in what was going on which also made my job easier ,
As for getting the parents involved they were ?chomping at the bit? and took very little encouragement

KIM (Dave Dee Admin)
We hoped our sons 21st Birthday party would be a special evening and it turned out to exceed our expectations with Dave Dee making our special night even more special with his attentiveness toward our son and guests.
The music was fantastic with very tired legs at the end of the evening from non stop dancing.
we received numerous messages the following morning from everyone saying how amazing the night was.
A very big thankyou and our appreciation to Dave Dee.
By
Tony
on 6th February 2018
Hello Duncan and Dave
Firstly very many thanks Duncan for Saturday night. The disco was brilliant! You certainly had the dance floor full and everyone had a fantastic time at Joe's 21st, for which Robin, Joe, Alice and I would like to thank you. You worked along with us all very patiently and created a happy atmosphere for the whole evening. It was great how you helped Andy to keep the photo booth occupied - love the pictures of you and Andy in the booth!
Dave, thank you also. The whole experience, from phoning you initially about a disco, to the final tune being played at the party, has been delivered so professionally. Thank you for arranging for Duncan to be our DJ - he is such a great guy and gave Joe a fabulous disco.
Thank you both again, and I look forward to arranging Alice's 21st with you in 2020!
Kind regards
By
Christine Salt
on 1st February 2018
Editing or updating this listing
Select here
if you have forgotten or are unaware of any log-in details for this listing.
Disclaimer
Opinions expressed within reviews are those of the individual author and are not the views or opinions of Lowi Ltd, My Local Services or any of its employees.
If you have an issue with any review comments then please fill in the
review issue form
and include as much detail as possible.

Incorrect data:
If you want to report incorrect information on this web page, then please
contact us
and outline the issue. We aim to resolve most problems within one business day.