DAVE DEE: Professional Mobile Disco Hire ... All Occasions
Professional Mobile Disco Hire for all occasions, just look at the reviews...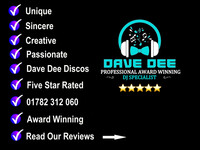 DAVE DEE: Professional Mobile Disco Hire ... All Occasions
Stoke-On-Trent
Staffordshire
ST3 5TX
United Kingdom
Business type:
Payment methods accepted:
Cash, Debit Card, Invoiced Payment, PayPal
Opening hours
Monday
Open 24Hrs
Tuesday
Open 24Hrs
Wednesday
Open 24Hrs
Thursday
Open 24Hrs
Friday
Open 24Hrs
Saturday
Open 24Hrs
Sunday
Open 24Hrs
Business information
www.davedeediscos.co.uk
Whether you want a DJ for your wedding reception, school disco,childrens's disco or dinner dance, or any other occasion you can think of Dave Dee is the ideal choice for disco entertainment. With over 18 years experience in the entertainment business, Dave's philosophy is simple - "excellent music, high quality equipment and attention to detail".

Specialising in evening wedding receptions, from the bride and groom's first dance to their last, your wedding reception will be one of the most memorable days of your life, and for all the right reasons!!!

Using only sophisticated PAT TESTED sound and lighting, Dave Dee offers the best music to suit all ages, shapes and sizes, with volume control to suit your taste.
Please visit our websites
For Everything Disco Related: ClicK Here
For Bespoke Wedding Packages: ClicK Here
For Children's Discos: ClicK Here
Pure Quality See Us In Action: ClicK Here
Or contact us on:
Mobile: 07976 752 178
Office: 01782 312 060 ..... (10.00am -3.30pm Monday - Friday)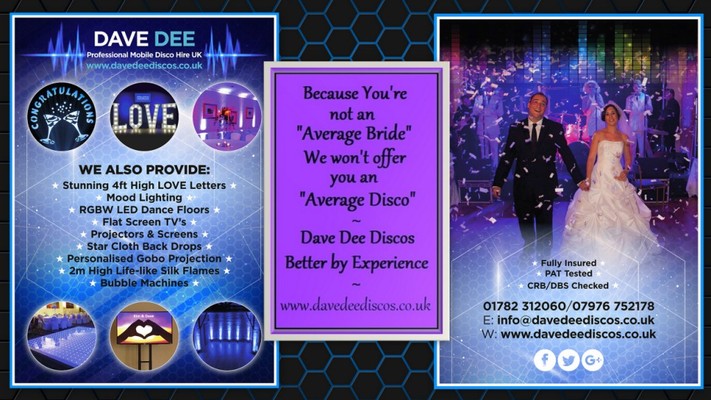 Order by:





5.0 out of 5 based on 323 reviews
We hired Dave for our wedding at the rugeley rose in june. From the first email exchange, the customer service was outstanding. Nothing was too much trouble and they made everything so easy. On the night, set up was so quick and efficiant. I didnt have many request but they played a good range of music and even had request slips, which the kids enjoyed filling out. The didnt play untill a set time, instead we played it by ear untill most guests started leaving, this made the night so much better as it wasnt cut short or went on for too long (and so saving me abit of money!!) I really would recommend this service to anyone, 5 stars!!
By
Amy James
on 8th June 2017
Response from DAVE DEE: Professional Mobile Disco Hire ... All Occasions:
Thank you Amy for your most excellent Dave Dee Discos Review.
The song request slips are a really good way of making sure your DJ' is in tune with what your guests would really like to hear, without them Dave would never of known your favourite song was Teenage Dirt Bag, :) and which DJ would ever play Linkin Park - One Step Closer at a wedding .. But Dave Did

KIM (Dave Dee Admin)
We hired Dave Dee Disco's for our wedding at Moddershall Oaks on the 28th May 2017. Booking and discussing any extras we wanted (lights etc...) was extremely easy and efficient as we communicated by e-mail. Any queries I had were answered extremely quickly, and this helped the whole process.
Beforehand I had a phone call with our DJ, this was to discuss all the little details of the event and what type of music we wanted etc... I wasn't expecting this but the fact it was a personal phone call and not just a questionnaire or something was much better, I got to talk to our DJ and have an actual discussion about what we wanted.
Dave arrived to set up on time and was ready to go before the agreed start time. He talked and joked with the guests which helped to create a nice atmosphere in the room and took requests to start the night off. He also set up so we could have our first dance outside which was great and something we both always wanted.
Throughout the night Dave played the songs that everyone wanted and seemed to read the room and what people would want also. I would certainly recommend Dave Dee Discos to anyone for your event.
Martin and Sally Capewell
By
Martin Capewell
on 5th June 2017
Response from DAVE DEE: Professional Mobile Disco Hire ... All Occasions:
Top review thank you Martin,
it really is nice to be appreciated for the pre event work we, I personally loved presenting your first dances outside, I have not seen the photos as yet but imagine that they will be stunning with the picturesque back ground Moddershall Oaks has to offer, I know both myself and Kim have already thanked you both but once again thank you for using and reviewing Dave Dee Discos

Copy and Paste the link below into your Browser thingy, to view a mini slide show from this event
https://vimeo.com/220343322

DJ Dave Dee
Fantastic disco for my daughter's wedding. Great choice of music, interacted brilliantly with guests of all age groups. Dave Dee was the full package
By
Mark Horne
on 30th May 2017
Response from DAVE DEE: Professional Mobile Disco Hire ... All Occasions:
Thanks Mark
All reviews are important and appreciated this one more so .... WHY ..... because Mark used to DJ himself and there is no one more critical than another DJ so when mark says " Dave Dee was the full package" you just know that this is 100% spot on, he would have been hanging on every word said, every mix created and every song choice made.

So big thumbs up Fellow DJ

Dave Dee
Communications were excellent prior to our daughters wedding disco. This led to a professional disco lots of personal touches and an appreciation of our eclectic musical tastes as well as the experience needed to produce successful event. Great fun. Testing my feet today!!
By
Sheila
on 21st May 2017
Response from DAVE DEE: Professional Mobile Disco Hire ... All Occasions:
Hi Sheila
I think it?s a compliment when you say "Testing my feet today!! " I know Dave did a lot of pre event preparation for this event, ensuring that he had the music requested , that as asked all equipment was set up pre the guests arriving.
Then Dave arrives injects his magic and makes it happen .... It?s what he does

Copy and Paste the link below into your Browser thingy, to view this event and listen to eclectic musical tastes
https://vimeo.com/218495908

Fantastic night thank you again for using Dave Dee Discos

KIM (Dave Dee Admin)
We hired Dave for our wedding at Moddershall Oaks on 29/04/17 and he was brilliant, his communications was excellent and we built a great rapport and understanding of what we wanted on our special day. Dave went the extra mile to find one song in particular to play at the event and we really appreciate it. We have had people come up to us since the wedding and state just how good dave was. The next time we organise any event he will be the 1st person we ask to dj. Truely outstanding dj!!
By
Rich & Jemma Sumnall
on 1st May 2017
I've known DaveDee discos for quite a few years and he has never disappointed.
He was very recently entrusted with the 'after wedding' disco for my Son and his wife which was a big responsibility I have to say. I'm pleased to say he did not disappoint.
The music selection throughout the evening was great, covering all the 'must have' tracks and plenty of others too.
Dave got the party going well and maintained a good atmosphere right through until the inevitable last track which seemed to come round far too soon.
He was very quick and quiet with the setup which was important as he was just the other side of a curtain in the marquee and so the speeches etc. were not disturbed.
I do have another Son who may get married one day. Assuming they'd want an evening disco then I'd be very happy to book DaveDee for that too.
By
Rob, Father of the Groom
on 19th April 2017
Very professional. As mother of the bride I know that time had been taken to fully understand exactly what the bride and groom wanted and Dave went the extra mile. The atmosphere was upbeat all night and there was never a lull. Everyone fully enjoyed the event and Daves interaction was amazing meaning the dance floor was full all night. I wouldn't hesitate to recommend the service for anyone whether it be a wedding or other event. True professional.
By
Jayne Fallows
on 19th April 2017
Brilliant..involves the crowd and got everyone up on the dance floor.
Friendly, likeable and listened to the dancers..playing more and more classic tunes :) made our evening party ????
By
Sarah
on 17th April 2017
Thank you so much for doing the music at our wedding. The dj managed to navigate our extensive playlist perfectly and ensured the dance floor was full all night.
By
Emma Mary
on 17th April 2017
The school PTFA have booked Dave Dee Discos for the past 5 years - returning to him each year for the school discos. He does a great job of entertaining both the younger children (infant disco) as well as the Juniors. He always introduces new games each time too - to engage his mini audience and break up the dancing a bit too! He has a lovely rapport with the children and we would highly recommend him.
By
Redhill Primary School, Derbyshire
on 23rd March 2017
After knowing Dave dee disco from years ago, I was in no doubt about booking him for the retirement party! Adaptable to any kind of party, young or old. Great value for money, easy to book, easy to contact.
Everyone at the party had a fantastic time thanks to the great music..
Thanks Dave, should I need a disco in the future I will definitely be giving you a call and definitely recommending you to friends and family.
By
Lesley hinton
on 19th March 2017
Very professional dj who made sure the night was how we wanted it. He took the time before the wedding to go through what we want and what we don't. He seemed to remember throughout the night wedding party's name which gave it a personal touch. I have never been to or had an event where guests are so impressed with a DJ. Everyone of our guests asked about him!
Highly recommend and the LOVE signs hired where beautiful finished of the room
Thank you
Jordan and David
By
Jordan
on 6th March 2017
Response from DAVE DEE: Professional Mobile Disco Hire ... All Occasions:
Hi Jordan & David
Lovely review, with some very good points
We do pride ourselves in making each and every event as personal as possible; this will unfold even more over the next few weeks as you meet again with your guest?s thank you for using Dave Dee Discos

Want to see our stunning LOVE Letters?
Copy and paste the link below into your Browser thingy, https://vimeo.com/207102147

KIM (Dave Dee Admin)
I hired Dave Dee for a joint 50th party. I didn't give him much to work with on the night apart from, I want you to get the people up and dancing and leave me out of it as I'm not a first up to dance, or give speeches type of guy.
No problem he said and it certainly wasn't. As soon as he kicked in we knew we were in for a great night. From start to end, Dave was brilliant and soon had the crowd on the dance floor. There was only one person who didn't get up to dance and he'd got bad knees, which means he even got me up dancing and that says something as I really dont dance.
I'd have no problem recommending Dave Dee to anyone who wants a professional high quality disco. Thanks again Dave.
By
Nigel Williams
on 5th March 2017
Dave Dee delivers an excellent disco tailing it to the event. What ever the age or event you can sit back relax and leave Dave to do all the entertainment. We have had Dave Dee twice now and each time been fantastic. Love the games . Thanks so much. Hazel
By
Hazel Norwell
on 1st March 2017
Fantastic night - great music (80s and 90s are the best!|). Dave got on board with the whole theme and really made the party rock. The dance floor was full all night! Thank you.
By
Katie Robins
on 13th February 2017
Response from DAVE DEE: Professional Mobile Disco Hire ... All Occasions:
In the words of Katie
"Dave got on board with the whole theme and really made the party rock. The dance floor was full all night!"
How much more could you want?
How about 1700 + video views, loads of likes, comments, praise & shares for this event on the Facebook Page

Yep we can boast that too

Copy and Paste the link below into your Browser thingy, to view the best EVER! 50th Birthday party
https://vimeo.com/203445842

KIM (Dave Dee Admin)
Amazing service from start to finish. For the past 9 years I have organised our local swimming club's presentation night/disco and have never dealt with such a professional company as Dave Dee Disco Hire. They had many administrative issues with our chosen venue which Kim and Dave dealt with, ensuring no stress for me. Previous years I mainly used a venue's in-house disco, most of which have left me feeling extremely disappointed with families often leaving before the night ended, but NOT with Dave! Dave had our swimmers and their parents on the dance floor ALL night!! The children were engaged all night with his entertaining style, fabulous music and amazing set up. The presentation part of the evening can be a long process but during the changeover of speeches, medals etc Dave interjected little music tasters to wet our appetite, this led to a packed dance floor for the disco part of our event. The feedback I have received from our swimmers has been amazing and makes my voluntary role within the club worthwhile. Our club will be using Dave again and I will probably bore anyone who listens to me about this amazing DJ. HUGE THANKS TO DAVE AND KIM X
By
Sharon Smedley
on 26th January 2017
Response from DAVE DEE: Professional Mobile Disco Hire ... All Occasions:
What can I say except ... THANK YOU SHARON
This is a fantastic review which I only wish all our future clients would read, the reason future clients should read this review is simple.

You booked your entertainment based on value & experience, NOT price!

Because you booked based on value & experience, not price the end result is as you read above
So many people just don?t get that and feel that, the cheaper the price the "better" the bargain they are getting

And my name is in Capitals!!

KIM (Dave Dee Admin)
I hired Dave Dee Discos at the very last minute (about 10 days before!) for my daughter's 11th birthday party on 15th Jan 2017.
He was very helpful & informative as to what I could expect for the party & I was very grateful for his advice. He arranged for Malc to be the DJ in question & I was really impressed with his control over 26 11year olds (including 4 boys!).
My daughter thoroughly enjoyed her party & even said 'it was the best birthday party ever' & the reviews from her friends at school the next day confirmed they thought it was 'awesome!!'. Music from my daughter's playlist was included & Malc held their interest with sports/team organised 'games' which were pitched just right for their age group.
Thankyou for taking the pressure off me so I could get on with organising the food for that many hungry young adults!! I will definitely recommend you to friends & my son has already asked for you to do his next party!!
By
Rachel Nield
on 22nd January 2017
This wasn't the first time we have used Dave Dees, we have been so pleased with their service and quality, that we will definitely use them again. Dave doesn't just provide a disco he provides the atmosphere too!
By
boden1987
on 15th January 2017
Response from DAVE DEE: Professional Mobile Disco Hire ... All Occasions:
Love the bit that reads "Dave doesn't just provide a disco he provides the atmosphere too! "
This was a fantastic UV Teen birthday party for Abi & Alex. I (Kim) personally attended, to keep an eye on our Boy Dave Dee, all I can say is the boy worked hard

Copy and Paste the link below into your Browser thingy, to view the first ever UV Mannequin Challenge
https://vimeo.com/200090622

KIM (Dave Dee Admin)
Dave Dee was the DJ for our wedding party which simply wouldn't have been the same without him. He was perfect from start to finish. All my guest commented on how great he was. I could use no other perfect.
By
Jacqui and joe Minihan
on 9th January 2017
Myself and my wife chose Dave Dee after hearing such great reviews Dj Malc did not disappoint us!
Dj Malc arrived on time which is always a good start and it just got better!
Our little 5 year old boy was amazed with the magic show and loved all the different games they played, all the kids were fully entertained including the adults and the disco that followed just ended a truly fantastic afternoon.
Thank you all for your great entertainment we will definitely be recommending you.
By
Steve
on 8th January 2017
Editing or updating this listing
Select here
if you have forgotten or are unaware of any log-in details for this listing.
Disclaimer
Opinions expressed within reviews are those of the individual author and are not the views or opinions of Lowi Ltd, My Local Services or any of its employees.
If you have an issue with any review comments then please fill in the
review issue form
and include as much detail as possible.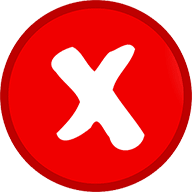 Incorrect data:
If you want to report incorrect information on this web page, then please
contact us
and outline the issue. We aim to resolve most problems within one business day.