DAVE DEE: Professional Mobile Disco Hire ... All Occasions
Professional Mobile Disco Hire for all occasions, just look at the reviews...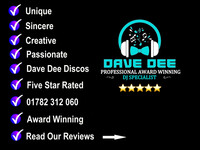 DAVE DEE: Professional Mobile Disco Hire ... All Occasions
Stoke-On-Trent
Staffordshire
ST3 5TX
United Kingdom
Business type:
Payment methods accepted:
Cash, Invoiced Payment, PayPal
Opening hours
Monday
Open 24Hrs
Tuesday
Open 24Hrs
Wednesday
Open 24Hrs
Thursday
Open 24Hrs
Friday
Open 24Hrs
Saturday
Open 24Hrs
Sunday
Open 24Hrs
Business information
www.davedeediscos.co.uk
Whether you want a DJ for your wedding reception, school disco,childrens's disco or dinner dance, or any other occasion you can think of Dave Dee is the ideal choice for disco entertainment. With over 18 years experience in the entertainment business, Dave's philosophy is simple - "excellent music, high quality equipment and attention to detail".

Specialising in evening wedding receptions, from the bride and groom's first dance to their last, your wedding reception will be one of the most memorable days of your life, and for all the right reasons!!!

Using only sophisticated PAT TESTED sound and lighting, Dave Dee offers the best music to suit all ages, shapes and sizes, with volume control to suit your taste.
Please visit our websites
For Everything Disco Related: ClicK Here
For Bespoke Wedding Packages: ClicK Here
For Children's Discos: ClicK Here
Pure Quality See Us In Action: ClicK Here
Or contact us on:
Mobile: 07976 752 178
Office: 01782 312 060 ..... (10.00am -3.30pm Monday - Friday)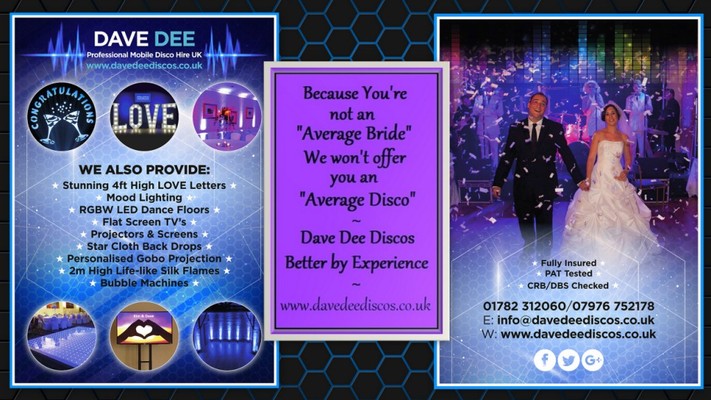 Order by:





5.0 out of 5 based on 429 reviews
Very professional & organised. Initial contact was great to discuss all our ideas and any special requests to make the event more personal. Dave did everything possible to make the night exactly as we'd imagined and hassle free on our end. All our guests loved it, especially the song request forms on each table - thank you again for an evening we'll never forget!
Response from DAVE DEE: Professional Mobile Disco Hire ... All Occasions:
Gemma & Callum

Great Words ... "Thank you again for an evening we'll never forget!"

Dave's response: "Your are more than welcome and the pleasure was all his"

Kim Dave Dee Admin
Absolutely amazing, gets to know the guests by introducing himself. Very jolly, getting guests up dancing. A great understanding of what you exactly want.
By
Mr & Mrs Dowen
on 13th November 2023
Response from DAVE DEE: Professional Mobile Disco Hire ... All Occasions:
Thank You James & Tracey

"The Understanding" bit is all down to 3 things 1) Preparation 2) Communication 3) Experience, I just loved DJ'ing your Event @ Hanbury

Dave (DJ)
Phenomenal DJ, we had him for our wedding and would highly recommend! Reads the room well and plays music suited for everyone to get up and dance, good interactions with guest and getting people involved.
By
Jordan guyah
on 11th November 2023
Response from DAVE DEE: Professional Mobile Disco Hire ... All Occasions:
Jordan, Dave Just Loves the words " Phenomenal DJ " if you asked Dave to describe his job title it wouldn't be Wedding DJ, it would be Personality Wedding DJ, and there lies on of the many differences :)

Kim Dave Dee Admin
Dave did a fantastic job DJing at our wedding at moddershall oaks. We had a call with him beforehand to confirm first dance as well as any dislikes or likes that we wanted playing or not, which just saved us from doing it on the day. He started with the amazing two minute challenge which gave us some great photos and got everyone involved and then the dance floor was busy from there on in. Really friendly and a great service, thanks for a great day!
Response from DAVE DEE: Professional Mobile Disco Hire ... All Occasions:
Hi Pip & Luke

Dave will be super pleased that you loved his two minuet challenge, this is a fantastic Ice breaker, that instantly creates a brilliant atmosphere, I have seen some of the photos .... one with DJ Dave lying on the floor !! Very funny

Kim Dave Dee Admin
We couldn't have been happier with DJ Dave at our wedding at Moddershall Oaks! Dave's performance was nothing short of spectacular. From the moment the music started, he had the dance floor packed and buzzing with energy. His ability to read the crowd and keep everyone on their feet was truly remarkable.
Dave's inclusion of country songs was a delightful surprise and a testament to his dedication to personalising our special day. As country music fans, we were overjoyed to hear some of our favourite tunes woven seamlessly into the playlist. It added a unique and unforgettable touch to the evening.
Dave's professionalism and attention to detail were exceptional. He worked closely with us to understand our musical preferences and seamlessly incorporated our song choices into the setlist. The transitions between songs were flawless, and the entire night flowed effortlessly.
We can't thank DJ Dave enough for making our wedding reception an unforgettable, fun-filled experience. His talent and charisma created a magical atmosphere, and we would wholeheartedly recommend him to anyone looking for a top-notch DJ. Thank you, Dave, for helping us create the perfect soundtrack for our special day!
By
Bradley Clews
on 6th November 2023
Response from DAVE DEE: Professional Mobile Disco Hire ... All Occasions:
OMG
This has to be my favorite review ever!,
It really does make all the pre event prep worth it, from this words I can see Dave had taken this event an put the official DEE stamp, BANG right there

Thank you so much Brad & Kate

Kim Dave Dee Admin
We had dave and Kim for our wedding on the 21st Oct and what a great night we had they are a lovely friendly and very professional couple from ringing us a week before to go through final bits,setting up before the ceremony so everything was ready it made our day stress free we had the love lights and light up dance floor and wow how amazing they looked I'm so glad we added them , dave is brilliant he had everyone up and around the dancefloor for our first dance which was lovely to see everyone getting involved in fact the dance floor was full all night and we have had guests commenting on what a great night they had, saying the lighting was beautiful and most saying its the best wedding they've been to
By
Kaz
on 3rd November 2023
Response from DAVE DEE: Professional Mobile Disco Hire ... All Occasions:
superb and detailed review, Thank Kaz Dave was a bit upset he did not get a capital letter tho ! :) just kidding ... no he was
I must con fess tho I say so my self the Lights, dance floor and love letters did look quite spectacular

Kim Dave Dee Admin
We hired Dave Dee for our DJ and upgraded to the dancefloor, love letter package and photobooth which we would recommend. Kim called in advance to run through the day and ask us questions such as what music we wanted played at the wedding. Couldn't recommend them enough.
By
Jess and Joe
on 28th September 2023
Response from DAVE DEE: Professional Mobile Disco Hire ... All Occasions:
Brilliant feedback, I'm So glad you like the dance floor & extra nice things we provided.
We love it when we make peoples dreams come true, The train on your dress looked amazing with the starlit floor underneath it :)

Kim Dave Dee Admin
Dave was great throughout the build up and day of the wedding. Giving us a call before the wedding was really good to help visualise how the evening would pan out and he followed a lot of what we talked about perfectly. He was engaging with the guests all night and all praised for a great evening. Would highly recommend.
By
Adam Buckley
on 21st September 2023
Response from DAVE DEE: Professional Mobile Disco Hire ... All Occasions:
Hi Adam

Thank you for Your time and your review, its fantastic to know that you would highly recommend the service we provide

all the very best to both you and Lindsey

Kim Dave Dee Admin
From our first encounter with Dave and Kim to the last song, it was perfect! We can't thank them enough for the service they delivered. There service is honestly 5 star and we just felt so excited to have them playing as part of our big day! I think they were the perfect DJ to get everyone up on the dancefloor and just made Royle Forest Wedding Venue even better as the atmosphere was addictive.
Thank you again!
By
Stephanie Bailey
on 29th August 2023
Response from DAVE DEE: Professional Mobile Disco Hire ... All Occasions:
Hi Steph,
What a venue I have not stopped telling people what an amazing place it is

Thank you for inviting me along to do what I do, I have a feeling I will be back there lots

Dave (DJ)
We hired Dave for our wedding at Moddershall Oakes on the 26th August 2023. We weren't too sure what to expect from our DJ as we had never hired one for an event before however Dave came very highly recommended from the event team at Moddershall and after our wedding night, we completely understand why. Dave exceeded any and every expectations we may have had. He was entertaining and got the crowd up and dancing without being too overbearing, jokes were in good taste and well timed and had everyone laughing. The music choice was absolutely spot on. We had a phone consultation the week of the wedding to go over what kind of music we liked, after a not very detailed brief of 'we kind of like this and kind of like that' Dave put together the most perfect playlist, with songs that had everyone screaming at the top of their voices and everyone dancing, even the people we didn't expect. I've had nothing but absolute compliments about him from our guests.
Dave did a '10 second photo challenge' where he had us sit on two chairs in the middle on the dance floor and each table of guests had to run up to us and pose for a photo within 10 seconds, everyone loved this and had great fun with it, and the photos are some of our favourite from the night.
He asked us if we wanted any reminder announcements throughout the night such as signing the guest book and photos at the Photo Booth.
Dave arrived on time and the equipment was set up without anyone even noticing.
There is truly nothing I can say was a negative.
The booking process was very simple, we also hired some additional extras which looked amazing.
Kim was helpful and easy to talk to about all the admin side, emails were replied to in a very timely fashion and we were never left hanging.
Simply put, without Dave I don't think our wedding night would have been half the evening it was, he was an absolute superstar. Thank you so much
By
Rosie Johnson
on 28th August 2023
Response from DAVE DEE: Professional Mobile Disco Hire ... All Occasions:
OMG

This is amazing Thank You Thank You Thank you

The 2 min photo challenge is one of Dave's USP's May try and Many fail but Dave has nailed it it is a fantastic Ice breaker

All the best Rosie

Kim Dave Dee Admin
If you are after a DJ who will get your dancefloor full all evening, Dave is definitely your man! He certainly has the knack of getting even the most resistant of guests up and enjoying the night. We absolutely loved our evening reception and the vibe Dave helped to bring.
The process before the event was very smooth, professional and beyond reassuring that we had made the right decision by booking Dave Dee's Disco Service.
If you book him for your big day make sure you request a photo dash and conga!! You won't regret it… soooo much fun and we got some really awesome pictures and videos as a result ! Thanks Dave you were spot on
By
Catherine & Joel
on 25th August 2023
Response from DAVE DEE: Professional Mobile Disco Hire ... All Occasions:
I Loved DJ'ing This event, never before have I known a bride so keen to lead a conga but you did it in style
thank you so much for letting me be part of your big day

DJ Dave
We hired Dave Dee for our wedding and he was an absolute hit! He played all the songs that fit for us and made our wedding way more special. All my friends loved him and have even gotten in touch with me since the wedding to say how fun he was! A lot of DJs we spoke before booking him made out that they knew what music to play and would not take requests from us, however Dave knew just how to make our wedding unique to us and still include all the classics everyone would love. I will definitely recommend him to anyone!
By
Leanne
on 17th August 2023
Response from DAVE DEE: Professional Mobile Disco Hire ... All Occasions:
Perfect thank you Leanne,

Every wedding is different and no two weddings are ever the same any DJ that thinks differently is wrong and maybe not as good as he thinks he is ... there are a lot of these DJ's around ... You made the right decision

Kim Dave Dee Admin
We hired Dave as the DJ for our wedding and we were not disappointed. He started the night with a 2 minute photo challenge. He got each table to stand by us on the dance floor and have a picture in under 2 minutes. A great idea to get everyone involved.
Dave listened to our requests and the requests of guests. The music was just perfect for what we like.
When he saw some guests sitting down he did extra challenges such as having the guests in a circle with myself and groom in the middle. Guests had to copy what we were doing depending on whether they were team bride or groom.
Our last dance and first dance were also perfect. He also got a great picture of our first dance and sent it to us.
We would definitely hire again!
By
Emma
on 16th August 2023
Response from DAVE DEE: Professional Mobile Disco Hire ... All Occasions:
so Glad you Liked the 2 minute challenge

Dave was he thinks the first DJ in the UK to do this, lots wont even try it as they don't have the experience, confidence and energy it takes to make it happen properly

what an Ice breaker tho

Kim Dave Dee Admin
Firstly apologies for the not doing this sooner, we are just back from our honeymoon and going back to work has taken its toll on personal admin.:(
Both Mairéad and I would like to thank Dave for absolutely smashing it out of the park on the evening of our wedding at Hanbury Wedding Barn
Dave was AWESOME! .. From his comparing the evening to his tune selection; absolutely brilliant.
We really have had so many people comment to us on how good Dave made the evening and how brilliant all of the tunes that he played were.
We will not hesitate to recommend Dave to anyone who is looking for some evening entertainment.
We hope he managed to get some fish & chips on the night. Apparently they were also awesome :-)
Love and best wishes
By
Mairéad and Gary @ Hanbury Wedding Barn
on 8th August 2023
Response from DAVE DEE: Professional Mobile Disco Hire ... All Occasions:
Dave is very skillful and really does know when and when not to use the mike , he words are "I will use the mic if I can add to what is already happening " other than that I will will let the music do the talking "
Your review shows examples of both

Thank you

Kim Dave Dee Admin
Thank you Dave and Kim for the most amazing wedding reception entertainment. You truly kept the dance floor alive from start to finish. Your service was incredible, from communication about our visions and the music we would like, to creating an atmosphere for our guests to enjoy and party. The service to receiving a video the next day was just breathtaking. I was delighted to re-live every moment. We haven't stopped smiling. I am truly thankful and would highly recommend Dave and his team. Xx
By
Charlie Thornewill
on 8th August 2023
Response from DAVE DEE: Professional Mobile Disco Hire ... All Occasions:
I'm really glad all went well as it has been a long time since we last entertained at Dovecliff Hall, as a result of your event Dovecliff how now started to follow us on the socials

All the best Charlotte

Kim Dave Dee Admin
We had the absolute best time on our wedding day evening and it's all thanks to you for making that happen. We are so grateful for how you kept the room alive all night long and have had so many compliments about how good the evening was. Thank you so much once again
By
Lucy
on 7th August 2023
Response from DAVE DEE: Professional Mobile Disco Hire ... All Occasions:
Thank you Lucy & Zach

& Thank you for sending over the those photos, I asked Dave what he was doing with that lady on the dance floor ... his reply was making he smile clearly !

all the best to you both

Kim Dave Dee Admin
We are so pleased with the service provided by Dave Dee Discos for our wedding on 3rd August. Dave and Kim were brilliant from start to finish, and very communicative during the planning stages.
Nothing was too much trouble. Our starlit dance floor was amazing, and our other requests such as mirror balls, wall lights and uplighters made our venue look magical and elegant. We even had a bubble machine during our first dance!
Thanks again Dave and Kim for playing some of our favourite songs and for keeping our guests so well entertained. We have no hesitation in recommending your services to everyone else!
10 out of 10 !!!
By
Steve and Alex Massie
on 7th August 2023
Response from DAVE DEE: Professional Mobile Disco Hire ... All Occasions:
Steve & Alex,

Taking your venue ... Weston Park and bringing your idea's & dreams to life was my pleasure, I only wish we could post photos on hear as that last photo of you guys on the starlit dance floor with the mirror balls doing what they do was like a seen from strictly ... pure magic !

Dave (DJ)
Dave was fantastic at our wedding! Our guests have all commented on the relevance of the music that was played and all felt it suited our styles perfectly. The dance floor was never empty and Dave was great at getting everyone involved. We had a very detailed conversation before our wedding about our tastes and preferences and this was catered for perfectly. Our wedding was finished off brilliantly with Dave as our DJ!
By
Catherine and Matt
on 28th July 2023
Response from DAVE DEE: Professional Mobile Disco Hire ... All Occasions:
Kat

The very detailed conversation per your event is all part of the service, we find it builds fantastic reassurance with all our couples,

Love your feedback for your event at Hanbury wedding barns

Dave (DJ)
Dave thank you so much for DJing at our wedding. The music was just amazing and there was never any point in time when there was not someone dancing!.
We cannot thank you enough for being part of our day
By
Olivia & Tobias (Hawkstone Hall)
on 26th July 2023
Response from DAVE DEE: Professional Mobile Disco Hire ... All Occasions:
Olivia & Tobias
Superb feedback we loved every moment of your event at Hawkstone Hall thank you for allowing us to be part of your special day

Kim Dave Dee Admin
Absolutely fantastic!!
Dave and Kim were excellent to deal with for our wedding recently. Their attention to detail on the day was impeccable and they made sure everything ran smoothly from setting up on arrival to announcing the cutting of the cake and our first dance. Dave ensured our favourite songs were played and did a fantastic job of reading the room, playing songs which our guests all loved. We had so many comments from guests saying how on point the song choices were. He filled the dance floor all night long, the energy was incredible! We added the rustic package to include photo mirror which was a great hit with guests. A big thankyou from us both and we highly recommend Dave for your event!
By
Rachel F
on 18th July 2023
Response from DAVE DEE: Professional Mobile Disco Hire ... All Occasions:
What a crazy weekend .... Weather wise ! The back of the marquee was like a seen from Glastonbury loved every minute of the Think the photos are amazing all the best to you both and have a fab honeymoon

Kim Dave Dee Admin
Editing or updating this listing
Select here
if you have forgotten or are unaware of any log-in details for this listing.
Disclaimer
Opinions expressed within reviews are those of the individual author and are not the views or opinions of Lowi Ltd, My Local Services or any of its employees.
If you have an issue with any review comments then please fill in the
review issue form
and include as much detail as possible.

Incorrect data:
If you want to report incorrect information on this web page, then please
contact us
and outline the issue. We aim to resolve most problems within one business day.