Steve.Richardson - Forum Profile
Steve.Richardson


Forum title
Administrator
Joined
Sep 2009
Posts
11008
Thanks
4224
Thanked
2694
Latest activity
18th Oct 2017 2:37pm
Business listing
My Local Services
Welcome aboard

Welcome aboard Hypnotizer

What a forum name, I love it

It sort of reminds me of the equaliser but obviously you work in different industries

Have you been self employed for long and hows it going?
Welcome aboard Red Lion, great to hear from a pub that's doing well

It seems to be nothing but doom and gloom around Warwickshire with so many pubs that have closed down. What's the secret, is the reality pubs make a living from food now or have you got lots of local loyal trade?
This has been a really annoying issue over the last couple of weeks. As soon as you open an attachment using Microsoft Outlook, a prompt appears asking you to reenter your password.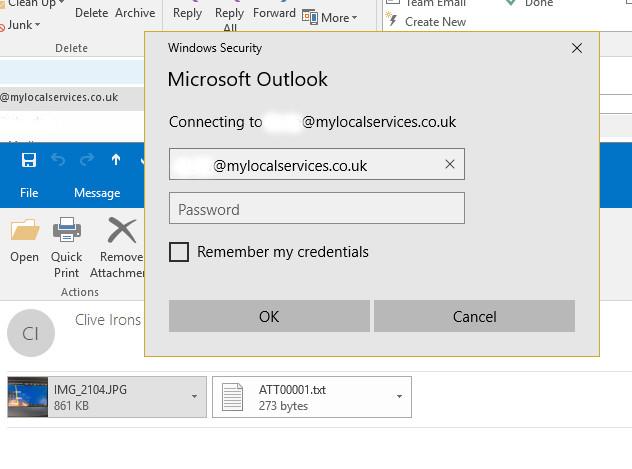 Tried all the usual things like removing the credentials from credentials manager and a bit of googling showed up lots of other people having the same problem.
The issue seems to be related to Office 365 and a recent update (thanks Microsoft

). But there doesn't seem to be any resolution. People have eve tried re-installing office, deleting profiles and really intrusive heavy handed measures, all to no avail.
The only work around I've spotted is to roll back the last update, but I can't be bothered. I'm hoping MS must be about to release a new fix.
So is anyone else having the same problem? Anyone received any magic fixes?
A belated welcome aboard

I'm sure I know your name, Haslam IT. Maybe we've done some business in the past? We're not a million miles in Alcester.
Hope you find the forum useful and always handy to have IT experts on hand for forum members

"
So, Steve Richardson
What's wrong if I am operating sometime from India.
Please suggest.
"
Nothing at all, just transparency. Just make it clear you aren't actually in London.
Unfortunately we get absolutely inundated with overseas spam and SEO style listings claiming to be located in the UK, some even use fake addresses. Our filters automatically delete 99% of it, the rest are flagged.
In this case if you genuine, then apologies all round.
Welcome to the forums

Fantastic, that's my kind of humor

I may have to put that on our Facebook page and see if causes any comments...
Welcome to the forums

"
Ah Ha !
my plan worked then to get noticed

- thanks !!!
But honestly take a look at our website it really is lovely location and agree virtual is the way forward !
Jo"
Oh hello trouble, just suddenly spotted you!

So Jo used to be our awesome receptionist at the Mill, but abandoned us to our fate and ran off to the Longbarn Village

Now no-one brings us lovely cakes or left over scraps from the meeting rooms

Plus she was the only one who could keep Clive in check