Steve.Richardson - Profile
Steve.Richardson


Forum title
Administrator
Joined
Sep 2009
Posts
7540
Thanks
4595
Thanked
2960
Latest activity
14th May 2022 9:51am
Business listing
My Local Services
Steve.Richardson Bio
Happy father & business owner, fascinated by marketing, local search & making trader directories effective.
- Founder of the UK Business Directory and Forum; www.mylocalservices.co.uk
- Founder of the USA Directory; www.mylocalservices.com
- Creator of the Trusted Trader platform; www.trustedtrader.scot in partnership with Trading Standards.
Always willing to help and advise if I can, feel free to connect or get in touch.
Favourite quotes:
- The Attitude of Gratitude - Father Brian D'Arcy
Be thankful for what you have, not stressing about what you haven't.
- Production not Consumption - Daniel Priestly
Be a producer of effort, for health, wealth and family. Not sat on the sofa being a consumer.
Even with war underway and taking on the Russians, the spamming industry is still going strong in Ukraine...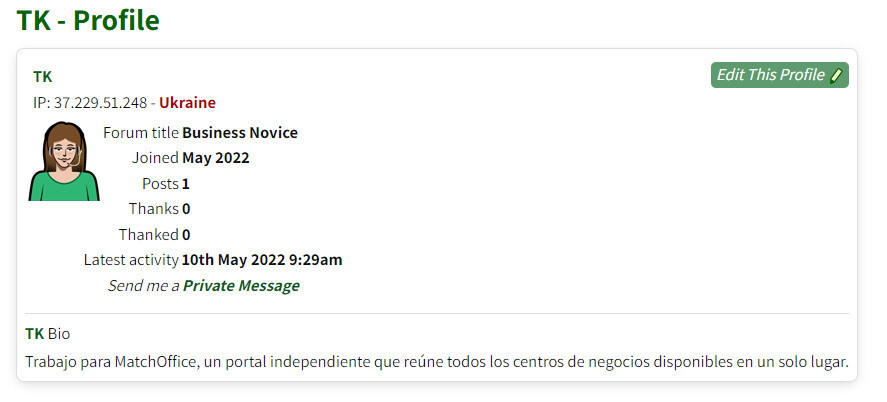 "
I still visit from time to time , but as you say there are never really any good posts anymore.. I still report spam when I see it like the mortgage spam with 3 posts

.. Didn't look as though the page redirected to report spam though"
Always happy to see you Andy. Spam wise, the notification does work and pinged me in the back admin. Luckily, 99% of actual spam never makes it onto the site unlike other forums. So even in an unloved state, it still remains spam free.
Posts wise, it's a rock and a hard place. Rebecca is unable to moderate anymore as she is so busy with her business which seems to go from strength to strength. My own team of admins are all busy with no spare time to spend on the forum, which leaves just me, and I tend to get pulled in different directions.
I'm going to strip it right back, get rid of the forums that have had little activity in recent years, and stick to a few topics that encourage comment, are informational or perceived as useful for business owners and marketeers, whilst ensuring we don't get buried with lots of low-level self promo. Having the intro forum should take care of that.
I just need to take a thumb out of my bum and crack on

"
Good Evening Andy.C
Sorry, you feel like that @Andy-C reference to Rockstar Mortgages Post (x3), this is our first post on 'My Local Services platform, it's unfortunate the platform needs a little tweaking."
It's not a problem, people like to add a self promo post, which is why I re-opened the Introduce your business forum, and moved your post there (and deleted the duplicates).
Welcome aboard

Welcome aboard. How lucky are you, a wife as a masseuse???
Or more likely you get told to put the kettle on because shes knackered

Well it has been on the "to do" list for a while, but we have finally refreshed our USA Directory - mylocalservices.com. With just under 2 million businesses onboard, it was time to spend some TLC and give members more functionality.
Maybe I can tempt some USA based members onto the forum

Meanwhile forum wise, I'm still scratching my head, talking to myself, and wondering what on earth to do with it

. It gets lots of visiting traffic, helps the rest of the site ranking wise, earns a few quid from adverts, but has little interaction as most people get their fix these days on Quora or YouTube.
Good news is spam is minimal and takes minimal time to administer, which is a good job as I seem to be the only one available to do it.
Answers on a postcard, head-scratching continues...
Nicked from Facebook

The economy is so bad that I got a pre-declined credit card in the mail.
I ordered a burger at McDonald's, and the kid behind the counter asked. "Can you afford fries with that?"
CEO's are now playing miniature golf.
If the bank returns your check marked "Insufficient Funds," you have to call them and ask if they mean you or them.
Hot Wheels and Matchbox stocks are trading higher than General Motors.
McDonald's is selling the 1/4 'ouncer'.
A truckload of Australians was caught sneaking into New Zealand.
The Mafia is laying off judges.
BP Oil laid off 25 politicians
"
Oops, some employees may wish to provoke that response in order to open the tribunal door!"
I was just cutting to the chase

Now I'm older and wiser, the key is to ensure that you don't have any employees with a bad attitude in the first place. Big organisations and local authorities are dumping grounds of employees ticking over, unmotivated, fed up, but reluctant or unable to do anything about it. These kinds of employees can be catastrophic for a small business and small teams, destroying morale, cohesion and productivity.
So it's down to you to ensure you get the right people on board, and that your business is a right fit for them, as well as you. Few people relish starting a job they have no real interest in or get any satisfaction from.
But make sure you understand current HR rules and employment rights. If you don't, then get advice. Taking on new people doesn't have to be a major risk, it can be managed during a length of probation to ensure both you and the new starter are happy. This will include regular meetings to assess progress, address, and try and resolve any issues.
If things are still inconclusive for either party, then extended probation can be a possibility or an amicable parting of the ways. The key is ensuring employment contracts and processes are correct, fair and followed.
This should reduce the chance of a bad attitude team member, but if it does happen, then falling back on your HR process, with agreed 1-1 meetings and performance reports, then you can also manage a person out of your business, without fear of retribution. If it's done fairly, the employee will normally concede it's not the job for them, and a bad attitude is just a trigger or sympton of an issue, which may or may not be work-related.
Maybe it's an external work stress that 1-1 meetings will highlight and you may be able to help, such as offering flexibility, time off etc, that will give the employee the chance to resolve whatever issue is impacting their work. The spin off here is you gain a reinvigorated employee that knows you have their back, and in return will give 110%. Win win for everyone

So the question really is, why does your employee have a bad attitude?
"
Many thanks Steve,
Also I really appreciate the shout-out given on social media given by the team "
we aim to please

Welcome aboard

We got a box of various Indian treats from an Indian sweet shop in Sparkhill, Birmingham, including milk sweets. Far too sweet for my palette but my kids loved them!