When a Morrisons meal deal isn't what it claims to be.
Is con too harsh? I was going to say scam but thought maybe that was going too far. Maybe incompetence is the correct term?
For some bizarre reason the Morrisons £3 meal deal fails to work at the self service tills for some of the options. Maybe this is a glitch with one particular branch? In this case it is the Stratford-upon-Avon store. I have raised it with customer services and flagged it with it so many staff over the last six months it's almost embarrassing to go in. A lot of staff are sympathetic, they concede it's an ongoing problem, head office have been informed and it's frustrating for both consumers and staff.
A few staff have tried telling me it's my fault, ie I have picked up the wrong items which aren't part of the meal deal. After explaining that I had only selected items from the clearly marked meal deal shelves, I have been told that maybe I was mistaken, some crisps were put there by accident and by my diet Pepsi was no longer part of the promotion.
But after six months of persistence and maybe a contender for the worlds most devoted and patient Morrisons customer, yesterday finally forced me to digital action. After yet another meal deal failure on the self scan checkout, the assistant came over and informed me my crisps weren't part of the promotion. When I patiently explained they were and this was a regular occurrence, the young girl in question insisted they weren't, walked over to a crisp counter, grabbed a smaller bag and different flavour of crisps and said have these instead.

10/10 for ingenuity, but I didn't want her choice, I wanted the clearly marked meal deal item. After a short discussion with my patience and goodwill disappearing quickly, the assistant finally agreed, over-rode the code and began the familiar game of trying to work out how much to take off to bring the balance to £3.
Another assistant who overheard our discussion and was very sympathetic suggested I document the episode, take some pictures and contact Morrisons customer service on Social Media as the message clearly isn't getting through.
So here we go Morrisons Customer Service...
Exhibit A - The Meal Deal Choice
Exhibit B - A meal deal combination that clearly doesn't work. I suspect it's the Max crisps, but replace salad for sarnie and you get the same result. Likewise water for coke.
Exhibit C - No £3 meal deal for you fat lad!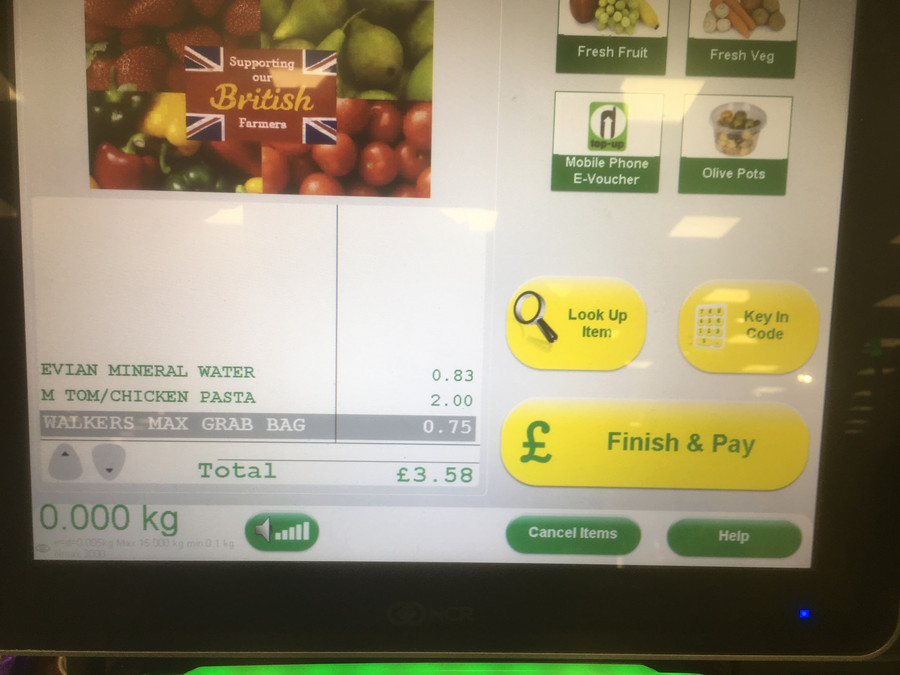 Summary
I think the choices for the Morrisons Meal Deal is fantastic, otherwise I wouldn't put myself through this grief on a regular basis. You can't argue the value for £3. But if elements aren't supposed to be in the deal, then take them out!
Is it really that complicated
Why has this been an issue for so long? Is there a lack of communication between store and head office?
Am I alone in this issue or do others have the same problems at different stores?
How many people don't even realise they have been overcharged?
Will Morrisons respond and more importantly fix it! If they add any responses on SM I'll paste them below.