Stitching Cards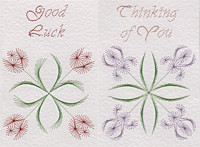 Stitching Cards
St. Albans
Hertfordshire
AL2 2ZQ
United Kingdom
Business type:
Opening hours
Monday
09:00 - 17:00
Tuesday
09:00 - 17:00
Wednesday
09:00 - 17:00
Thursday
09:00 - 17:00
Friday
09:00 - 17:00
Business information
With our stitching card patterns you can make beautiful greetings cards that impress your friends.
Visit our website to view a huge collection of card designs to suit all occasions including birthday cards, Christmas cards and most other special occasions. With Stitching Cards patterns and the easy to follow instructions you can create beautiful handmade greetings cards that your loved ones and special friends will treasure.
Prick the pattern on to your card and then stitch. It is quick and easy and the results are dazzling. When you have completed your purchase you can download the pattern files to your computer immediately. We have provided some free stitching card patterns for you to try prick and stitch cards.
If you are new to stitching cards then see how the cards are made in he tutorials section of our website.
http://www.stitchingcards.com
Order by:





4.9 out of 5 based on 884 reviews
Site was pretty easy to use. Placing my order and receiving my patterns so easy and quick ! Thank you!
By
joni
on 21st November 2020
Always great!
By
Katherine O'Hare
on 20th November 2020
stiching cards are a great site
By
keza
on 20th November 2020
Love it
17th November 2020
I love these designs, so versatile for every occasion
By
Ms Frances
on 10th November 2020
so quick and easy to use
By
Julie Exton
on 4th November 2020
Great Resource! A must have in any crafters arsenal!
By
Anne L.
on 29th October 2020
I often download patterns for my cards I can recomend them
4th October 2020
I am so pleased with the designs I have downloaded from Stitching Cards. I do not send or use any commercial cards as I make ALL my cards (patterns) from Stitching Cards. I also love the ability to download the patterns instead of having to wait for my purchase to arrive by mail.
Thank you so much.
4th October 2020
Stitching card patterns are so easy to order and download. The instructions for stitching are easy to follow and overall they are brilliant value for money
By
Anne Evans
on 7th September 2020
This is a fantastic site. Given me a new interest. I'm going to do all my Christmas cards with this method. The free patterns give you a good taste of how good the patterns are. To buy the patterns is Quick, easy and simple to do. The patterns are well written and easy to follow and well worth the money. Can not recommend highly enough.
20th August 2020
Great instructions.
By
R Joyce
on 12th August 2020
Lovely patterns at a reasonable price and the download process is very easy. Patterns are well written and easy to understand. Very pleased with purchases and would recommend .
5th August 2020
I enjoy the Stitching Cards - Good designs and easy instructions.
By
EileenG
on 5th August 2020
Amazing resource for those looking for quality paper embroidery patterns. Variety is vast and directions are clear and easy to follow.
By
Keith
on 2nd August 2020
Easy pay, easy download.
25th July 2020
I discovered Stitching Cards this past summer while watching a woman in my craft group create beautiful hand embroidered cards. She recommended this site and I have been back many times to get new patterns. From birthday cards to thank you cards to every day "just thinking of you cards" this site has a pattern for every occasion.
At one point, I wanted a pattern not offered on their site. I contacted the owner with my idea and by the next week, I had the pattern I requested. Awesome customer service!
Nothing says, "I love you," more than a hand made card. I highly recommend this site and these products!
Cheers!
By
Kathleen Newell
on 23rd July 2020
Sometimes the directions are not very clear, but I Love the product.
6th July 2020
I absolutely Love these stitching Card designs.
7th June 2020
i love it
By
antonia bray
on 5th June 2020
I love stitching cards as their grading system makes them easy to use
4th June 2020
Very straight forward and easy to navigate. Lovely designs.
23rd May 2020
stitching cards is the site i head for when i want value for money
By
mrs A Chapman
on 21st May 2020
Lovely designs and easy to follow
By
Monica
on 17th May 2020
i love stitching cards as my grandma taught me how to make the penguin book mark and other cards
By
antonia bray
on 16th May 2020
Easy to use website and the PDF download provides an image in colour which other similar websites do not.
By
Jean Shirreffs
on 15th May 2020
Excellent patterns with a great range of designs, suitable for all abilities.
By
Sandra McKenna
on 12th May 2020
I love buying my stitching patterns from this site, as they are always clear, value for money and delivered to my phone when I want them.
11th May 2020
My mum used this several years ago, I kept receiving emails still for her. So I looked at the patterns available now and started using them again during the lockdown and started making cards.
10th May 2020
Quick and Efficient service. Attractive website. Good choice. Excellent presentation.
8th May 2020
I love these patterns! They are beautiful and easy to follow!
I used your patterns before and love all new ones.
By
Marg
on 29th April 2020
It is so easy to get the patterns, you can save for further use, and the price is very affordable. Thank you. I will continue getting more patterns.
27th April 2020
This is the only reliable site where I can find this type of product and I enjoy it so much
By
Diane Warfel
on 27th April 2020
I love all the patterns. I have fun giving them as Christmas cards. They are a big hit.
By
Paula Miller
on 27th April 2020
I have always found the designs quick and easy to download and imaginative.
By
Ward Veronica
on 26th April 2020
I have been stitching cards for more than ten years. The price has always been reasonable giving good value for money. The patterns are easy to follow and the finished result has always been admired by the people receiving them. I have quite a library now of stitching cards. It's very easy to take a few cards to stitch on holiday, apart from the obvious needle and thread, and the cards and patterns is a roll of sticky, or cello tape.
26th April 2020
The designs are excellent and well laid out for using
By
Mary Neil
on 26th April 2020
Great pleasure in dealing with this firm
Their patterns are lovely and a pleasure to work with very clear instructions
By
Susan Garvey
on 23rd April 2020
Beautiful patterns ,easy to follow
By
Sheila wren
on 18th April 2020
I have difficulty trying to stitch the lettering but I'm new at this. Hopefully it will get easier. I've enjoyed teaching other friends this craft. I like it because I don't need to invest a lot of money, I can take it anywhere and it's a great way to spend the evening instead of eating or looking at my phone!
By
AnJie Havens
on 9th April 2020
Love download option
By
Robin Grile
on 4th April 2020
great product
By
miriam ryan
on 6th March 2020
I like the variety and choice of patterns and I also like the coloured diagram of the pattern as this makes it easier to follow.
By
Lynley Hudson
on 4th March 2020
Very good and easy to buy from.
By
Ana Maria
on 3rd March 2020
I look forward to all new prick n stitch patterns. So easy to use.
By
Marlene
on 29th February 2020
Excellent website - easy to access and great choice of designs to enable me to make beautiful cards again and again.
28th February 2020
Very speedy way of getting patterns.
I am enjoying making cards for my family and friends.
19th February 2020
Very easy website Explanations are clear and a wide choice of subjects
By
Wendy
on 14th February 2020
Very good with plenty of choice
By
Ja
on 10th February 2020
I love your patterns! The instructions are easy to follow and I especially like the ability to download the patterns quickly and easily. I have ordered several of your patterns and have never been disappointed with any of them. I hope you continue to add new ones in the future!!
By
Linda Plotner
on 3rd February 2020
Very reliable and good quality. Would always use this site .
1st February 2020
The patterns are very clear to follow
By
Gillian
on 28th January 2020
The stitching patterns are very easy to download. I have bought from this company several times and am happy with their service. The pattern instructions are easy to understand.
By
Rhonda Mueller
on 27th January 2020
They always have the pattern I am looking for. Instructions are complete, detailed. Great pattern, drawing of the completed drawing. Best place to get these patterns
By
Gramma Karen
on 24th January 2020
I love all your patterns they are very easy to follow.
By
Maureen Lowe
on 20th January 2020
The choice of patterns is great and the ability to download the free patterns if you are a novice at stitching cards.
By
Allyson Thom
on 15th January 2020
Love these patterns. Easy to follow directions. I'm a beginner and enjoyed making cards from these patterns.
By
Donna Barthelt
on 4th January 2020
great variety!
By
yan
on 4th January 2020
Excellent site. Use it often
By
Pat Hagger
on 18th December 2019
Love the choices and the fast delivery and ease to download
2nd December 2019
Love Love this website, having so much fun making cards for my family this Christmas!!
29th November 2019
Very efficient and simple to use web site.
25th November 2019
I have never experienced a problem with Stitching cards.
24th November 2019
Clear instructions and tips to get the best result. Friends and family are very impressed when I have given them these cards
22nd November 2019
Easy site to use
all patterns have instructions that are simple to follow
final results after completing cards are very good
By
Susie Dean
on 16th November 2019
Patterns are beautiful and affordable!
11th November 2019
Use these patterns all the time.....they are the best.
By
Eileen Robinson
on 10th November 2019
This is the second time I have used this site and each time there is difficulty in downloading the designs
9th November 2019
I've used Form a Lines often, but found the link to this site on Pinterest. I was thrilled to find such a variety of designs. Excellent quality, very quickly delivered.
By
Sue Baughan
on 8th November 2019
Easy to use and follow patterns. Results are effortlessly beautiful and quick to make.
By
Angela
on 5th November 2019
Easy patterns and enjoy making the cards
1st November 2019
site quick and easy to you even for a silver surfer
By
wgibberson
on 25th October 2019
Your site has lovely patterns. Some different styles would be nice, but overall I am very pleased and will continue to use them.
Thanks for providing a wonderful site.
18th October 2019
Great choice of quality, easy to follow patterns.
By
Jo
on 10th October 2019
I like the variety of attractive images, the prompt e-delivery of the patterns, and the clear and easy to follow instructions. The finished cards are prettier than any picture can show.
By
Diane
on 24th September 2019
Pattern instructions are easy to follow. Finished product is good. I make and give out 40 to 60 Christmas cards to coworkers every year and some are from Stichingcards and compliments are always positive on receiving the cards. So I am always looking for new designs for next year's Christmas cards.
22nd September 2019
I am always delighted to see an email with new patterns being made available. The instructions are always clear and different subjects on offer. What more can a girl want.
By
Frances Delaine
on 22nd September 2019
lovely patterns site easy to use
By
Julie Cassidy
on 22nd September 2019
I really enjoy the stitching cards. The patterns are done very professionally and are easy to understand. I love making them and giving them to family and friends. Always looking forward to seeing what is new. Thank you.
By
Teresa
on 20th September 2019
At first I had trouble but once I found out what I was doing it was a cinch. I didn't think the price was bad at all. The download was easy and I was also able to print the pattern off right away. I will buy from this site again. Love the patterns you have.
20th September 2019
ABSOLUTELY LOVE THESE PATTERNS......SO AFFORDABLE AND EASY TO FOLLOW. AND SO BEAUTIFUL WHEN FINISHED. THANK YOU FOR PROVIDING THIS VALUABLE SITE FOR US CRAFTERS!!!!!
By
SHIRLEY NUTTING
on 19th September 2019
I have frequently used stitching cards. They are simple to download and print. The instructions are clear and all the information you need to get started is easily available both on the download and the website.
The designes are lovely. I would highly recommend this company.
By
Pam Evans
on 19th September 2019
The patterns are easy to follow and I appreciate the variety of patterns.
By
Rosie
on 19th September 2019
Love your web site and the patterns. Keep on with the good service.
By
Kobie Goosen
on 19th September 2019
always simple to download and get started!
By
Chocie
on 18th September 2019
I've used their patterns for making cards before. I ordered new patterns today. The patterns are easy to understand and make beautiful embroidered cards.
By
Nora J.
on 18th September 2019
Love this site patterns are easy to follow
14th September 2019
Nice variety of beautiful items. Directions are easy to follow.
The price is free or very reasonable.
I can use Pay Pal!
By
Pjjj
on 13th September 2019
Stitching Cards is great! They provide awesome greeting card patterns and at reasonable prices to. I have nearly all their patterns and check regularly for new ones. I highly recommend them. Thanks SC!!!
12th September 2019
Love stitching these cards, just ordered another 22 patterns.
9th September 2019
Excellent site. Easy to use, reliable service, beautiful patterns.
5th September 2019
Love them! easy to work with.
20th August 2019
excellent site and products . Easy to download(my problem was my doing) and print brilliantly. Will order more soon as wife asks Thankyou
By
nobby clarke
on 19th August 2019
I'm excited to try these patterns. I'm new to this craft but they have demonstrations on the site. The patterns look adorable and were ready to download right away.
16th August 2019
Thank you Stitching Cards for making all these beautiful patterns available to us crafters! I have almost all of them and enjoy making them and giving them. Please continue to keep us busy with new ones. I love them all!
By
Karen Holley
on 12th August 2019
Excellent
4th August 2019
I had been looking for stitching patterns for quite a while. I am impressed by the variety available on the site. The ordering, downloading etc is simple and straight forward, 10/10 or 5 stars every time! I have recommended the site to other stitchers.
3rd August 2019
Stitching Cards is my go to place for all patterns. They have a great selection!!
By
Gail Berry
on 21st July 2019
I use this site regulsrly to buy patterns always satisfied
19th July 2019
I enjoy your patterns and the ease to obtain them. would like some different free patterns .
This is a really fun craft and easy to do.
19th July 2019
I have used many of these patterns for Christmas and birthdays. It is so easy to get the patterns and very easy to pay for them and download them. I really like making the cards and they are always received with pleasure. I will likely use more patterns as the need arises. I might add that I like the stickers that give credit to this site and to me of course!
By
merrilyn pennanen
on 10th July 2019
I have used stitching cards patterns for many years and have been very pleased with my cards and I have received many compliments on them. The service offered by this company is excellent.
By
ANGELA LAWTON
on 8th July 2019
Love these designs and a lot to choose from.
By
Sharon Tarpinian
on 27th June 2019
would like more patterns
By
jayne
on 26th June 2019
Fab designs to help me create unique personalised sewn gifts
By
CH@Stitcher
on 14th June 2019
Excellent service and highly recommended. I have only recently returned to doing this type of craft again and the patterns are just great, with many that are very different to the usual type you get for stitching on card/paper. Well worth a look.
By
Carole Cook
on 23rd May 2019
I am enjoying this product
By
Chris Obrennan
on 23rd May 2019
Wonderful, efficient site with all sorts of designs!
By
Nan Stone
on 22nd May 2019
I had a pleasant buying experience at Stitching Cards. Everything was easy-to-read and clearly stated. Checkout was fast and easy.
15th May 2019
Happy with product
By
chris
on 12th May 2019
Nice selection of patterns.
By
Brenda
on 5th May 2019
Love these patterns and use them frequently.
By
Marlene Andreason
on 30th April 2019
Fast efficient service. Great patterns.
26th April 2019
I just love your service. My craft has come on in leaps and bounds using your service.
By
Annemarie Donaghey
on 25th April 2019
Been buying Stitching Cards for years, so am very pleased overall.
Have made suggestions for new patterns which I hope to see on website very soon.
13th April 2019
Really enjoying these patterns
13th April 2019
I just started using Stitching Cards I love making cards
13th April 2019
Love them all !!!
By
sonia lenta
on 12th April 2019
Very pleased, will use again.
By
Stephanie Wiltshire
on 12th April 2019
Great website for prick and stitch patterns easy to use easy to print and even some free ones to download
By
Karen
on 26th March 2019
Love these patterns!
By
Kolrena
on 23rd March 2019
Very pleased I found this site. Very quick and easy to use.
21st March 2019
Stitching Cards provide an excellent service. Instant downloads after payment means you can get on creating straight away. Easy to follow instructions with colour diagrams. Highly recommend this company and will use for years to come.
By
Claire
on 21st March 2019
We know exactly what we order and this is what we get. Great service.
16th March 2019
A great way to make special cards for special people!
By
Marie O
on 9th March 2019
Love your cards.
By
joan dalton
on 6th March 2019
Delighted with this service
By
Ann Marie Mc Gill
on 23rd February 2019
wife is very happy and is busy making cards using patterns purchased. thank you
By
Derek
on 17th February 2019
I have purchased many Stitching Card Patterns over the pasted 7 to 8 years. Just by changing the colors of thread and the color of background, this changes the looks of your card. I am well pleased with the patterns I have ordered.
17th February 2019
i am pleased with all patterns i have had and with the instant download
By
jan
on 16th February 2019
diverse products, easily accessed, easy to download
By
Judy
on 15th February 2019
I bought a Christmas pack and found it very easy to download and print. The pattern instructions are very clear to follow. I am really pleased with my purchase.
By
Mary
on 15th February 2019
Beautiful designs and first class instructions
By
Ann
on 13th February 2019
Love that the patterns are downloaded immediately. Like the variety of pattern choices.
10th February 2019
My first time using the site. Extremely quick and easy
By
Dana
on 4th February 2019
Love, love, love card stitching and your free patterns got me off to an amazing start! Thank you for such wonderful products. Can't wait to work on my newest patterns.
Thank you
By
Laurna
on 28th January 2019
Making handmade greeting cards is so fun thanks to this site. The instructions are pretty easy to follow. Thank you
By
Nicole
on 18th January 2019
I am very satisfied with all the patterns I have downloadede over the past 9 months or so and have made many Cards and book marks. It is a very enjoyable and relaxing hobby.
By
Helen
on 16th January 2019
Love your cards, I have so much fun creating and have so many compliments.
Directions are simple and any questions are answered directly. Very easy to download and print.
14th January 2019
great patterns, easy to use and download
By
Kitty
on 13th January 2019
I love the patterns on this site.
12th January 2019
It is great that they change their patterns periodically
By
Pat
on 12th January 2019
Stitching cards are a FAB! Company to deal with. You get such a variety of choices to suit everyone & the patterns are easy to follow. The prices are superb for what you get as you can use the patterns over & over again. The fact that you can download straight away is a BIG bonus. I would definitely recommend.
By
MRS ANGELA CROW
on 3rd January 2019
Quick response, easy instructions, fun to use
By
Paulette
on 2nd January 2019
A wide choice of patterns. So easy to order and delivered via internet to be printed off immediately.
Very pleased with the service. Thank you.
1st January 2019
all excellent, will happily come back in this shop
By
Margareth
on 25th December 2018
Has been an easy experience to search, purchase and download patterns. Price is very competitive and selection of patterns great
By
Raelene Harvy
on 9th December 2018
I love this site. So easy to navigate and browse patterns. Easy to download and save patterns which I received immediately. Will be using regularly.
By
Carol Beattie
on 17th November 2018
Patterns were exactly as described and they arrived within minutes. I am ready to start stitching immediately.
11th November 2018
Web site easy to follow. Great range of patterns.
By
Adrian Smith
on 2nd November 2018
Love this website and all of the new patterns that are introduced. It would be nice to see some hair stylist patterns.
By
Charlotte Vogt
on 26th October 2018
I came across this site by chance buy have been using it over and over and it makes all the receivers of my work happy with the unique card or book mark.
By
CHRISTINE CACHIA
on 18th October 2018
love the variety
By
laurin
on 14th October 2018
I am new at stitching cards. It is so fun. I will buy more for sure they are fantastic. Thank you.
By
Jacqueline B
on 8th October 2018
I tried the free butterfly pattern first. The instructions were clear and easy to follow. The pattern was easy to transfer. The craft was FUN! I am hooked. When I need to do a greeting card of any sort, I stitch one of these patterns. My cards are fun, have a low cost and a big impact. Stitch art on cards is a great way of killing time at a doctor's office, on a flight, on a train ride, calming down at the end of the day or just riding as a passenger in a car. Helps time to go by quickly and gives you a finished product that you can be proud of.
As for this company, I have tried others. These patterns are by far the easiest to follow. I also like that I can find a product literally at any time of the day, purchase it with peace of mind that I am not being scammed or giving information that is unsecure. I can download it as soon as my payment is complete. run to my printer where I have downloaded, saved and printed my order. Transfer it onto my card stock and have a finished card in 45 minutes that is GREAT!
I highly recommend this company.
By
Kim P.
on 28th September 2018
excellent selection of patterns and very easy to order. I will definitely order more patterns in the near future.
21st September 2018
I just love these "Stitching Cards" The patterns are clear and accurate and great fun to stitch.
I thoroughly recommend them. Also, they are very easy to download - no problems at all.
By
Patricia Coulston
on 21st September 2018
My favourite site to b patterns. If you got a problem, it is always solve quickly.
Great service.
By
Kobie Goosen
on 21st September 2018
Absolutely exquisite designs!
21st September 2018
I get many compliments for the cards that I send to my family and friends.
By
Rosie
on 10th September 2018
Lovely designs - can't wait for new ones
By
Gwenda Williams
on 8th September 2018
Well impressed with choice and ease of download.
Would happily recommend to others.
Many Thanks
By
Kay
on 21st August 2018