DAVE DEE: Professional Mobile Disco Hire ... All Occasions
Professional Mobile Disco Hire for all occasions, just look at the reviews...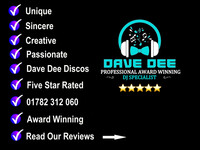 DAVE DEE: Professional Mobile Disco Hire ... All Occasions
Stoke-On-Trent
Staffordshire
ST3 5TX
United Kingdom
Business type:
Payment methods accepted:
Cash, Debit Card, Invoiced Payment, PayPal
Opening hours
Monday
Open 24Hrs
Tuesday
Open 24Hrs
Wednesday
Open 24Hrs
Thursday
Open 24Hrs
Friday
Open 24Hrs
Saturday
Open 24Hrs
Sunday
Open 24Hrs
Business information
www.davedeediscos.co.uk
Whether you want a DJ for your wedding reception, school disco,childrens's disco or dinner dance, or any other occasion you can think of Dave Dee is the ideal choice for disco entertainment. With over 18 years experience in the entertainment business, Dave's philosophy is simple - "excellent music, high quality equipment and attention to detail".

Specialising in evening wedding receptions, from the bride and groom's first dance to their last, your wedding reception will be one of the most memorable days of your life, and for all the right reasons!!!

Using only sophisticated PAT TESTED sound and lighting, Dave Dee offers the best music to suit all ages, shapes and sizes, with volume control to suit your taste.
Please visit our websites
For Everything Disco Related: ClicK Here
For Bespoke Wedding Packages: ClicK Here
For Children's Discos: ClicK Here
Pure Quality See Us In Action: ClicK Here
Or contact us on:
Mobile: 07976 752 178
Office: 01782 312 060 ..... (10.00am -3.30pm Monday - Friday)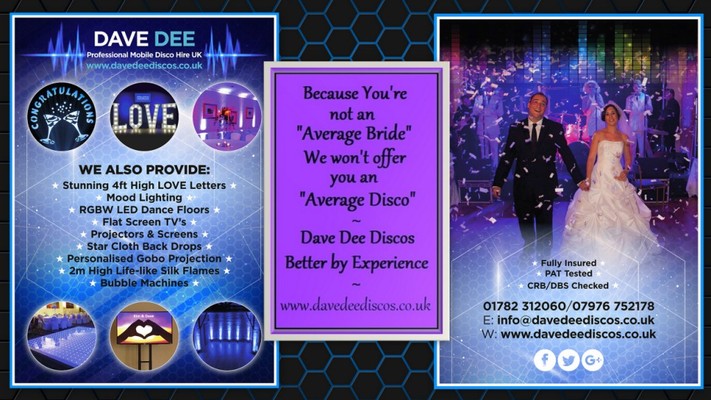 Order by:





5.0 out of 5 based on 365 reviews
Excellent service and brilliant music got everyone rocking on the dancefloor ....
Highly recommend by myself and my wife Jade.... x
By
Stephen Cannon
on 2nd June 2019
Response from DAVE DEE: Professional Mobile Disco Hire ... All Occasions:
Stephen thank you for this review & the amazing one you left on our Facebook page, we loved the photos on there :)

Copy and Paste the link below into your Browser Thingy, to see a little more of this fantastic wedding at Moddershall Oaks Check out the stunning Dance Floor to see how amazing it looked shining through Jade's Dress
https://vimeo.com/338838919

KIM (Dave Dee Admin)
Dave is The Man!
Thank you so much for doing our school disco last night. I along with everyone else really enjoyed your entertainment.
Walking into the hall and seeing a space hopper relay was hilarious and a complete surprise. My son said you were "fantastic"! You know what a compliment that is from a 10 year old boy. Mr R (the head) said it is the first time in 15 years he has looked at his watch and it has been 20:25 and time to get the kids ready to go, he is usually wishing the night away.
I think what I am trying to say is you went down so well I will be in touch next year and a MASSIVE THANK YOU FROM EVERYONE AT OXON SCHOOL.
See you soon disco Dave!
By
Karen Ure Oxon School PTA Chairperson
on 21st May 2019
Couldn't recommend Dave enough. Catered to our taste in music, got everyone up dancing and was thoroughly enjoyable throughout. Communication before hand from both Dave & Kim was amazing. For any other future parties I will definitely be using him :))) thanks again!!
Don't underestimate the need for a quality DJ!! And if you book Dave you will certainly have a that.
We booked Dave for our wedding as it was highly important to us that our guests and ourselves had a night to remember.. I was dreading someone turning up and pressing play! Dave is so professional he drove all the way to meet us at our venue and to talk through what kind of vibe we wanted for the night, as well as follow up call on the week of the wedding to make sure he had got everything just right our likes and dislikes and any mentions and really lead the evening from first dance to last!
Not to mention his lighting skills! Our venue wall looked great.
Big thank you once again!
Mr and Mrs Salt
By
Sam and Ashley
on 26th April 2019
Response from DAVE DEE: Professional Mobile Disco Hire ... All Occasions:
Some "DJ's /Discos" write their own reviews to boost how good they are ... WE Don't

But if we did ... BUT WE DONT! It would read as above this is a FANTASTIC review Thank you so much Sam & Ashley

Copy and Paste the link below into your Browser Thingy, to see a little more of this fantastic wedding at Colshaw Hall Check out the massive 10m x 10m wall behind the disco to see the "lighting" skills to which Sam & Ashley refer to

https://vimeo.com/332094816

KIM (Dave Dee Admin)
Dave Dee Discos were exceptional and played a part in making our wedding reception a great success and enjoyable for everyone. The pre-event meeting with Kim was very useful, we were able to discuss our requests and give her a general idea of the style of music we wanted playing. Would definitely recommend to anyone in need of a DJ at their event!
By
Clive Butler
on 26th April 2019
Response from DAVE DEE: Professional Mobile Disco Hire ... All Occasions:
It was a pleasure to meet you both face to face at the Moddershall Oaks open day, the week before your big day, to sit with you discussing all your wants & desires, I could feel your excitement
I so glad that Dave delivered your ideas to the letter, resulting a great success for you guys and enjoyable evening for all your guests.

It's what he does :)

PS thank you I Love it when I get a mentin in the reviews xxx

KIM (Dave Dee Admin)
Dave and his team provided excellent 5* quality services. From the admin team and their quick responses to Dave on the night being able to read the atmosphere on the night and playing some amazing tracks. Couldnt fault the service and would definitely use again. Thankyou to the team.
Amazing party all my guests was very very impressed and I?m so so happy to chose him Dave Dee it?s the one if you need good time and unforgettable night .. great music ???? ???? worth it every penny and I?m definitely see him on my next party ... thank you so much for amazing time ... x
Response from DAVE DEE: Professional Mobile Disco Hire ... All Occasions:
This was the first ... of many we hope, Polish Parties.

Dave Spent ages in prep for this one, down loading the music, then learning the BPM's of each track and what would work best with what !

The end result is this brilliant review

So many other DJ's just don?t do it or maybe simply can?t be bothered
Copy and Paste the link below into your Browser Thingy, to see a little more of Magdalena fantastic party the atmosphere was electric or as they say in Poland "elektryczny"

https://vimeo.com/322660628

KIM (Dave Dee Admin)
Dave rang us before hand to check our song choices and to find out a bit about us both. At our wedding he was very interactive getting everyone involved.
By
Angela Raba
on 7th March 2019
Response from DAVE DEE: Professional Mobile Disco Hire ... All Occasions:
Most excellent
Thank you Angela for your 5 star review, Pre event consultations are just one of our many USP's it was a pleasure to DJ at your event

Until the next time keep smiling

DJ Dave Dee
PERFECT !
I engaged Dave Dee Discos to entertain at my husbands 50th birthday party.
We were very happy with everything before the event, the communication was first class and during. DJ Duncan made it a fantastic night for us all and involved everyone and even helped me with getting the cake in the right position, he was brilliant.
I would definitely use yourselves again and recommend to others.
Thank you for making our event perfect!
By
Tina Baines
on 5th March 2019
To put into words all of the compliments that Dave is due is hard, he was fantastic and finished off the wedding in such a way that has created lasting memories for us and our guests.
Even down to accommodating the strange requests of ?Message to you Rudy? and ?Pulling muscles from a shell? he kept everyone engaged and dancing all night.
The written communication and pre wedding interview was exceptionally thorough, Dave explained to us how he worked and how he would fit into the day for us. He was professional, courteous and nothing was any trouble for him, he followed the order of the evening to a ?T? and involved everyone.
A truly fantastic guy and DJ and we will use him again.
By
Adam and Liz Lockett
on 26th February 2019
I attended a recent wedding of my neighbour, got to talking & YES Dave may charge more than most
However you get what you pay for and this guy is AMAZING ! Puts his heart and soul in & makes the night really personal to the guest and the bride and groom, the dance floor is always full and the music superb
5 Star Dave on the 1's and 2's
By
Rory Tony Chevolleau
on 28th January 2019
Hi Kim
Fantastic evening everything was perfect for Amara & Dominic?s engagement party thank you so much
All your emails etc were great, informative and very reassuring. Dave turned up on time and did a great job. Our guests (and us to) had a great evening.
Will definitely be using you for any future events and a couple of our guest also took your details too.
Thanks for helping us make a great party :)
By
Karen Jando
on 21st November 2018
From booking Dave 18 months prior to our wedding, communication was fantastic from the very start . Any queries were answered promptly and efficiently. The week before our wedding Dave rang us to discuss our requirements and to formally introduce himself. He couldn?t have been more helpful and friendly.
At our evening reception, Dave?s service was superb. He got everybody up dancing and didn?t let the dance floor go quiet! Nothing was too much trouble from ?odd requests? to birthday shout outs! He made sure there was something for every guest.
We would highly recommend Dave Dee Discos to somebody looking to book a night of faultless entertainment.
Mr & Mrs Salter - 29/10/18
By
James & Laura Salter
on 4th November 2018
Response from DAVE DEE: Professional Mobile Disco Hire ... All Occasions:
This review should reach out to all the future Brides & Grooms that are looking for a wedding experience and not just a disco or in the words of Laura & James ....

"A NIGHT OF FAULTLESS ENTERTAINMENT"

Let us do what we do for you! Let?s talk 01782 312060

KIM (Dave Dee Admin)
Dave was very professional from the very fist phone call, after a 5 minute conversation with me he had gained an understanding of what type of music I was looking for and then during the evening the music was on point throughout, Dave arrived early and the room was fully set and ready to go by the time all my guests started to arrive.
all my guests had a super time and I would not hesitate to recommend him or use him again!
By
Chris
on 31st October 2018
From start to finish Dave and his team make it easy to speak to and I have to say Dave is a great dj and he really does no how to get a crowd going. Would definitely recommend him to any one, was a pleasure to have him as part of our night time celebrations
By
Darren hines
on 23rd October 2018
Response from DAVE DEE: Professional Mobile Disco Hire ... All Occasions:
We are very proud our communication skills, it takes nothing to pre meet a bride and groom and even less to return a call or reply to and email

YET

So many other DJ's just don?t do it or maybe simply can?t be bothered
Copy and Paste the link below into your Browser Thingy, to see a little more of Jodie & Darren?s event Held at Moxhull Hall

https://vimeo.com/295178869

KIM (Dave Dee Admin)
First Class
After seeing Dave Dee at my friends wedding last year I knew straight away that I wanted him for our special day too. He did not disappoint. Dave absolutely made the night as incredible as it was, always on hand to fulfil the requests of myself and my wife and encouraging even some of our more timid guests to join in the fun. Thank you for going above and beyond to help us carry out the evening we wanted and we are extremely grateful for all your hard work that made it a true success. And also to Kim who helped with communications between us all. We will defiantely be hiring Dave Dee again for future events.
By
Priscilla & Stacey
on 2nd October 2018
Response from DAVE DEE: Professional Mobile Disco Hire ... All Occasions:
I am genuinely delighted that so many enjoy my DJ service and the very unique and personalised wedding experience that I provide at their wedding receptions

all I can say is

If you still need a Mobile DJ for your Wedding Reception, Just hit the contact us button, get in touch now and start a conversation with me.

DJ Dave Dee
Wow, what can I say.
Dave was the DJ at our wedding on Friday 7th September and he was BRILLIANT!
He got every one up and out of their chairs to join us for sparklers outside, he announced the cutting of our cake and got everyone around the dance floor as we did our first dance as Husband & Wife.
He put song requests out for our guests to request songs they would like (great idea)and gave us the option to have a finishing song which we had never even thought of.
He ended our night in the perfect way by ending it with the song that started our night.
Our first dance song by Ed Sheeran - Perfect.
Everyone from our wedding commented on how fab he was! if you are reading this and planning your wedding this is the only DJ for you
Thank you Dave for making our wedding night fantastic!
By
Amy & Jack Mr & Mrs Hodson ????
on 19th September 2018
good selection of music, very professional and approachable.. would highly recommend.
Response from DAVE DEE: Professional Mobile Disco Hire ... All Occasions:
Although there is not a lot given away in this review we feel the two big words are ... "professional and approachable? This is the first of many (we hope) 5 star reviews for our "new boy" DJ Paul

KIM (Dave Dee Admin)
What can I say....Dave DJ'd my school discos when I was younger and I always remembered having a fantastic time. It seemed the obvious choice to then return back to him to DJ my daughters birthday party. From start to finish I had excellent customer care, regular contact and when Dave arrived the children and I had an absolute blast. We had yet another party coming up and again I turned to Dave to DJ. This one was slightly different as it was my dad's 70th. Not such an easy party to DJ for, a Sunday afternoon and to say that my dad's requests and play list was difficult was an understatement. My dad basically, right at the last minute, provided Dave with a list of music, a fair bit of it obscure and requested he played it. Dave went out of his way to get all of the music. Which he did successfully. He had regular contact with us, letting us know what he had managed to get, advising us on the best way the music should be played. On the day of the party, Dave arrived on time, set up and got started. He is a really friendly guy, easy to get on with and has a great sense of humour. We couldn't have had a more professional service. We all had such a fantastic time. Dave may not be the cheapest DJ and he himself will say this. I can safely say he is worth every penny, he got it spot on. He did a fantastic job and we wouldn't go anywhere else. I can highly recommend him. Roll on my 40th for another good night! Thanks Dave you did an amazing job.
By
Kirsty
on 12th September 2018
Response from DAVE DEE: Professional Mobile Disco Hire ... All Occasions:
WOW!

And the award for the biggest review goes to, ..... Drum roll please ...... Kirsty
My desk is behind Dave's in the office.
He spent longer researching & obtaining the Cajun, Zydeco and Country & Americana music than he did playing it at the event, the end result is as you see it in the review above or as Dave would say "Fail to prepare, Prepare to Fail"

Great review Kirsty so so many good points raised we thank you x

KIM (Dave Dee Admin)
Sorry this has taken so long
Me and Michael would highly recommend Dave as your DJ, hes a lovely friendly guy nothing is too much trouble, We had the best night .... ever at our wedding on the 1st July at Moddershall Oaks, it was very thing we wanted and more !!
Dave called us pre our beg day, he talked us through everything he was going to to and how he was going to do it, he built with us our evening time line then turned up early and delivered an amazing set
Thank Dave
By
Jo & Michael
on 10th September 2018
Response from DAVE DEE: Professional Mobile Disco Hire ... All Occasions:
Thank you Jo & Michael,
All reviews are very special to us, this one, however means slightly more as we found out after the event that Jo is a wedding event coordinator, so to read the words "highly recommend" from someone who looks after other peoples weddings every weekend "highly recommend" suddenly has a much bigger punch :)

KIM (Dave Dee Admin)
Editing or updating this listing
Select here
if you have forgotten or are unaware of any log-in details for this listing.
Disclaimer
Opinions expressed within reviews are those of the individual author and are not the views or opinions of Lowi Ltd, My Local Services or any of its employees.
If you have an issue with any review comments then please fill in the
review issue form
and include as much detail as possible.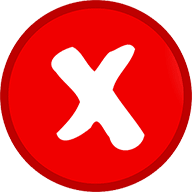 Incorrect data:
If you want to report incorrect information on this web page, then please
contact us
and outline the issue. We aim to resolve most problems within one business day.