Car Audio in Oxfordshire by Town
County flag of Oxfordshire by JimmyGuano - Own work. Licensed under CC0 via Creative Commons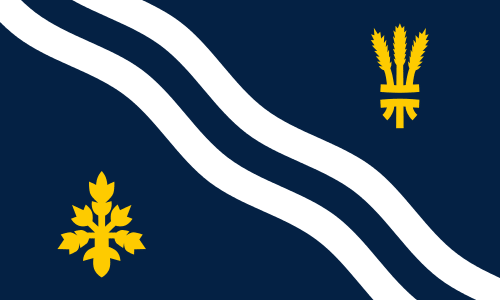 Facts and information about Oxfordshire
The main city in Oxfordshire is Oxford. Five local government districts make up the county of Oxfordshire: Oxford, South Oxfordshire, Cherwell, West Oxfordshire and the Vale of White Horse. The other main towns are Abingdon, Banbury, Bicester, Carterton, Chinnor, Chipping Norton, Didcot, Henley-on-Thames, Kidlington, Thame, Wantage, Wallingford and Witney. The estimated population of Oxfordshire mid-2014, according to the Office of National Statistics, is 654,800 people.
Oxfordshire has two universities, Oxford Brookes and the worldwide famous Oxford University. Oxford University compete against Cambridge University in the boat race, held in London every year on the Thames.
There are many famous sites in Oxfordshire. In 1954, Roger Bannister ran a mile in less than four minutes, for the first time ever, on the Iffley Road track in Oxford, now known as the Roger Bannister running track. The Hogwarts dining hall in the Harry Potter films was inspired by the Great Hall at Christchurch College in Oxford and the actual staircase features in the films. Rumour has it that Sir Winston Churchill was born in the toilets at Blenheim Palace, during a dance that his mother was attending.
The Thames is the main river that passes through Oxfordshire and the oldest bridge over the river Thames is the Radcot Bridge in Oxford, dating from 1150. Other historical features in Oxfordshire include the world-renowned Bronze-age White Horse, which is on the chalky ridgeway in Uffington and the oldest public museum in the world, the Ashmolean in Oxford.
Back to Car Audio by County