Analytical & Consulting Chemists in Lancashire by Town
County Flag of Lancashire by Lupin Raster. Licensed under CC0 via Wikimedia Commons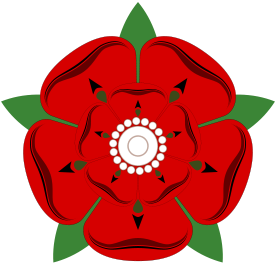 Facts and information about Lancashire
Lancashire's main towns and cities are Accrington, Blackburn, Blackpool, Burnley, Chorley, Clitheroe, Lancaster, Letland, Lytham St Annes, Nelson, Ormskirk, Poulton-le-Feylde, Preston, and Rawtenstall. The estimated population of Lancashire as of mid-2014, according to the Office of National Statistics, is 1,461,400 people.
The exact middle of the British Isles is in the Ribble Valley in Lancashire, it is Dunsop Bridge to be precise. Covering over three thousand square kilometres Lancashire is one of the largest UK shire counties and over 80 per cent of it is rural.
The river Brun runs through Burnley and is the shortest river in Britain and Bolton is the largest town. Close to Clitheroe is Bashall Town, the town in England with the lowest population.
Wigan is the birthplace of George Formby and Eric Morcambe was famously born in Morcambe who he named himself after (he was born Eric Bartholomew). The last known whereabouts of King Arthur's famous sword Excalibur is Martin Mere, a huge lake in Lancashire.
Lancashire is home to the football teams of Blackburn Rovers, Burnley, Preston North End, Blackpool, Fleetwood Town, Accrington Stanley and Morecambe. The county cricket team has won the county championship an impressive eight times.
Back to Analytical & Consulting Chemists by County