What is Instagram e-commerce?
Let's just all familiarise ourselves with the latest introduction to the Business and Social Media world the new 'Instagram e-commerce'. For those of you who don't know what this is let me enlighten you; Instagram e-commerce is a way of shopping via Instagram. Yes I know what you're thinking, that pair of Adidas trainers Kanye West or Kim Kardashian are rocking in their recent paparazzi Instagram post can now actually be part of your wardrobe. How exciting!
When does this begin?
I hate to break this to you personally but it isn't actually official just yet, as such. The social media platform of Instagram is however working very hard on achieving this new launch for all users in the UK by early 2017. 'Early' for the company probably means mid-year as we know how big companies can be with release dates - so many delays. Business owners have discussed introducing new adverts via the app: this includes marketing the bigger brands on the site and using those brands to begin the marketing campaign. The testing trials are ongoing in America via IOS devices this narrowing it down to the Apple devices of:
- iPads
- iPhones
- iPods
- Apple Macs
Basically any apple software that has an 'App Store'.
After the current trialling in the US has come to an end they will then look at testing it on other devices such as Android.
The facts behind the scenes:
The social media site Instagram itself have spoken about brands and businesses providing campaign data to the social media site, in order to have a backup plan if the e-commerce system through the business Instagram falls. As we all know Instagram already helps brands to promote their products/services through the sponsored adverts that appear on the timelines of thousands of users, this promotion however being through brands paying for this type of marketing strategy. With the new Instagram e-commerce it is totally down to the brand. How exciting!
I hate to bore you with the history and knows what else but bear in mind it's always handy to know some background before you jump into things. It's nice to know about your demographics when looking into promoting yourself through social media.
As a social networking site, Instagram has almost tripled in active users since 2013, the site itself launched in 2006 and has been very popular since. With the app evenly split between Android users and Apple users it is clear that it is insanely popular on any device worldwide. However, the demographic is drastically different between male and female, with 68% female users and 32% male users.
Does this mean with the new e-commerce falling at our feet in 2017 that there is a potential gap for businesses? By business owners displaying products or services through Instagram we can help the social media network attract more male users, by doing this we are then not just helping Instagram gain users, we are actively creating more customers for ourselves.
How can we as businesses attract male users?
By starting to use Instagram for online marketing and sales, businesses can begin to increase the male demographic of the site; for example if businesses think that the 'e-commerce' via the social media site is a good way to promote their business then more male business owners will be attracted to the site, therefore resulting in a higher demographic.
So how does Instagram e-commerce work?
Instagram as we know is a photo publishing social media site, this means that you can only post images within your page or profile. Other users that follow you can view these images or even if they do not follow you they are still able to view the images posted and like the images by double tapping on them. With the new Instagram e-commerce you are now able to click on the tags that feature in the image to buy a product.
An example would be the flowers in the image; if the user that posted that image of the flowers had added the link from where they had bought the flowers, another user would then be able to click on the link and be directed straight to the webpage, and if they wanted to could
order some for themselves.
So what are the advantages for businesses and e-commerce?
Well when discussing the facts and statistics of Instagram we know that 53% of Instagram users are aged 18-29 so it therefore has a large demographic of young people; young people that are potentially yet to learn how to do things for themselves. With business owners wanting to attract as many customers as they can, Instagram is the place to attract young users that need assistance with many things. An example of this would be a young student who is looking for a plumber to help with a leak in their new student home, by seeing an image of a business advertisement for plumbing via Instagram they are then able to click the
link in the image and it would take the student straight on to the plumber's webpage with all the contact information on. It's brilliant!
Another advantage would be building business visibility. By repetitively posting images of your services as a business owner via Instagram and providing links, your business will begin to become recognised by users so it will be a form of free advertising! Even if you decide to post the same picture in one day, the chances of a user seeing your post twice is rare due to the ongoing feed, in a similar way to Twitter the Instagram feed is always full and frequently updated.
From a marketing perspective it is so frustrating when social media sites such a Facebook make you pay for advertising to 'boost' your post in order for it to be seen by more people, but who knew that this way of advertising can be totally free of cost; although Facebook does own the social media site of Instagram so get in there while you can!
Instagram is fast becoming one of the favourite social media sites across the UK, as we know it is mostly popular with the younger generation, but with it being such an easy site to use and post on, we need to introduce this to our business world incorporating the e-commerce when it is launched!
As I have recently joined My Local Services it has been my mission to set MLS up with an Instagram account and market us on a wider range of social media platforms. It's a whole new world in comparison to the biggest social media sites such as Twitter and Facebook, however it going to be part of the marketing realm.
How do you set up an Instagram account?
6 simple steps
Step 1-
Type in the URL- https://www.instagram.com or alternatively download the app which will then follow as below. Fill in all the 'sign up' details or choose to link your Instagram account with your Facebook page.
Step 2-
You will then come to the Instagram home page which looks like this, to go on to your profile click the button in the top right hand corner.
Step 3-
You have now been directed to your Instagram profile. To edit your profile click edit profile next to your name.
Step 4-
When you are directed from the 'edit profile' button you will see a page like this. Once you have filled in all your details, save your page and you are ready to go!
Step 5-
Once you have edited your profile and clicked save, a page like this should appear, this means your profile is now ready to view!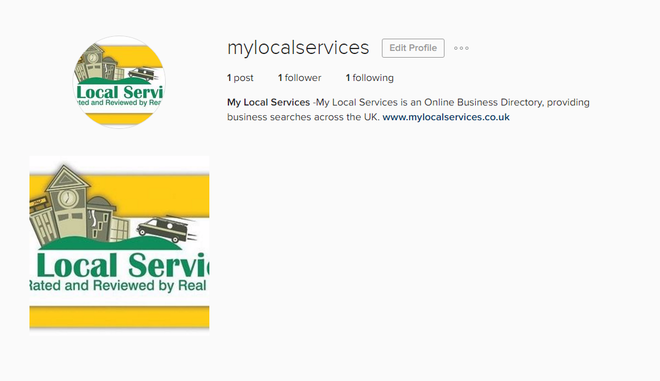 Final Step-
Use the search bar to find friends or other businesses that you would like to follow or have a look at their posts. Get going on the site!
Here is a link to our Instagram page, why not follow us and we will give you a follow back to get the ball rolling. https://www.instagram.com/mylocalservices/
It is all exciting stuff, so enjoy