How about that for an interesting contradiction. Your adblocker software will now start displaying adverts, as long as they meet their own acceptable use policy and have been white listed, naturally for a fee of course.
So publishers like us that monetize web traffic by serving Google Adsense units, are penalised by AdBlock Plus, meaning anyone who installs their plugin won't see any adverts. But on the other hand, we can sign up to the Adblock Plus acceptable ads platform, and show their adverts, which Adblock Plus will make money from.
Is the is the end of the ad blocker, which has now become just another commercial advert serving platform, albeit championing the web user? Critics will argue it is.
Although it will be set to show acceptable adverts by default, Adblock Plus users will be able to go into their settings and switch this off this so no adverts are shown.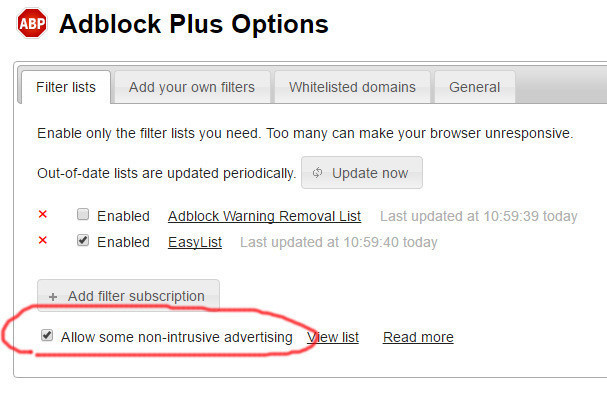 The question is how many will bother, or how many will just uninstall and use a different adblocker such as Adblock?
One person's acceptable advert is another person's intrusive spam. So what does AdBlock Plus deem as acceptable? Well here it is from the horse's mouth: adblockplus.org/en/acceptable-ads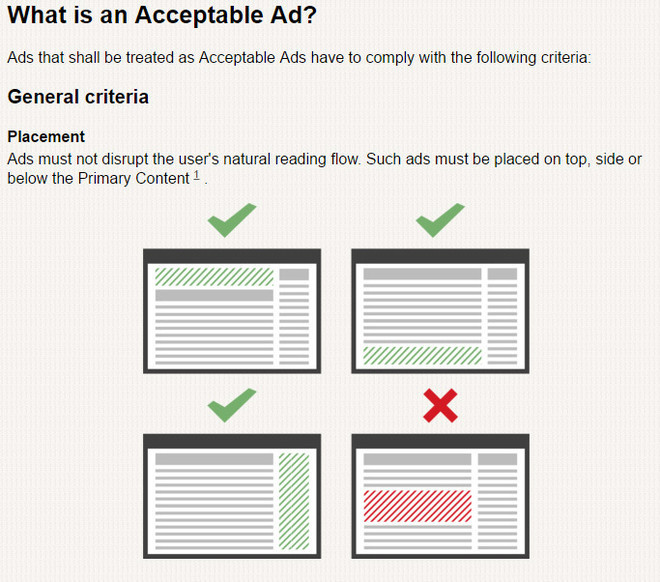 To be honest, that all seems pretty reasonable. Few people like annoying intrusive adverts. I've yet to meet anyone who loves pop up ad's that take over your screen. I suspect the majority of people would like to see fewer or zero adverts.
But there has to be a balance between expectations
ie I want to view content for free, or have free or low price apps or services, versus someone creating and providing the content and services.
Adverts provide a good source of revenue for a lot of sites (us included). It will be a sad internet where every website will expect payment before you can access content or utilise any functionality.
But out of control advert policies have reigned supreme a long time, and the huge rise and popularity of ad blocking software is a clear signal from website visitors that us publishers need to do better.
So is Adblock Plus the answer?
I think it could be a start. Website visitors need to be educated that without any revenue, a lot of the content and online services they rely on wouldn't exist, outside of hobby websites.
But publishers need to be educated that plastering adverts all over your content, trying to trick users into selecting adverts, or having annoying adverts that make absorbing content hard work is a concept of yesteryear.
The internet is moving out of its teenager attitude phase and is slowly maturing. Modern websites can be accessed on all devices, quickly and efficiently. Adverts should be secondary, and not the primary focus of the page.
Eyeo GmbH, the German owners of Adblock Plus have laid down the gauntlet, and moved the goal posts for advertisers. But once originated as a hobby funded by donations is now a serious business.
Our experience as a publisher
As longtime Google Adsense platform users (as well as others over the years), advert placement has typically been hit and miss, with efforts traditionally concentrating on maximum click through, based on analytics and performance data, rather than the user experience. Even Google guidelines have been confusing, with Google Adsense account managers recommending advert placement which contravenes their own policy, particularly on mobile sites.
But most publishers react to user and customer feedback, so our own policy has evolved over the years, ensuring we follow the Google terms of service, but also looking at the user experience. We know people don't like pop up adverts, or ones that take over your page. We also know that regular forum members have little interest in adverts, so we make the majority disappear for logged in users. We are in the process of rolling out a new version of this site, and advert placement has been key, finely balancing feedback with revenue. These are all things any publisher can do.
The Google backlash
When Adblock Plus and its partner ad buying platform ComboTag made its public announcement this week, that it would becoming an ad serving platform, Google quickly responded.
According to AdAge, Google Sridhar Ramaswamy, senior VP of ads and commerce at Google was taken by surprise and said "It's an uncomfortable development for us". Allegedly Google will be cutting ties as a result of the announcement, meaning the loss of Google Adsense inventory.
Another large player in the ad provider market is AppNexus who have suspended their relationship with Adblock Plus and their partners.
A storm seems to be currently brewing, as the Adblocker loses the moral high ground and goes on the defensive against claims of double standards, whilst upsetting its biggest partners, which it needs to server adverts.
But with a reported user base of 100 million+ users, it will be interesting to see how Adblock Plus and its partners will weather the storm.
The beginning of agreed Standards?
One thing the majority of people in the advertising and publishing industry will agree on is there is a need for a standard acceptable use, set of standards. The question is, who will set them? Google, Adblock Plus or maybe an independent consortium?
So Eyeo GmbH may have upset a lot of people, but they have certainly ignited the ad blocking debate. But we really need a cross vendor and platform agreed solution or set of standards.
Whatever the answer, something needs to happen soon as ad blocking software installs shows no sign of slowing down, leaving publishers, from bloggers to newspaper sites stuck between a rock and a hard place.
Sources and further information:
Adblock Plus Blog - New Acceptable Ads Platform launches
Advertising Age - Google Cuts Ties With Ad Tech Firm